Joliet council members ask for more work on budget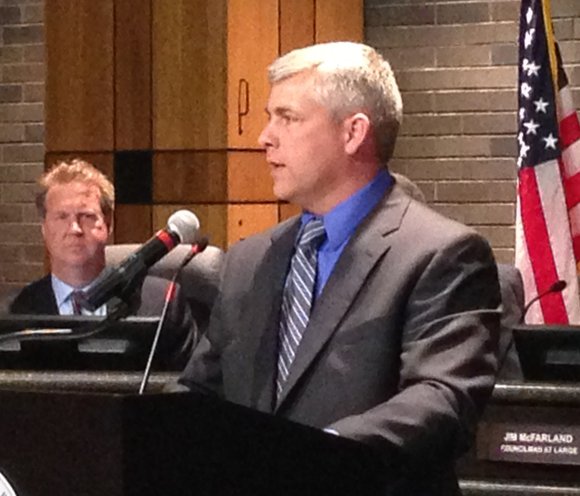 Joliet city council members weren't satisfied with the solutions proposed by city staffers to shore up their sagging budget.
Most council members and Mayor Bob O'Dekirk asked for a budget that strikes a proposed 5% property tax increase that would raise about $1.6 million in revenue.
The council members, who met in a special meeting Monday night, repeatedly told city manager Jim Hock that he and his staff would have to "sharpen their pencils" and come back with a budget that could be voted on at next week's meeting.
In total, the 2016 budget is $289 million with a general fund of about $174 million.
Also being considered for the 2016 budget is a 2 percent bump for the library district's property tax as well as an increase from $3 per $1000 to $5/$1000 for a real estate transfer tax for homes that are sold.
All told, under the current proposed budget the city is looking at dipping in to its reserve fund to the tune of about $5.3 million to cover its deficit.
Councilman Larry Hug offered what he called an "unpopular" solution of pulling the city's $600,000 annual contribution to the Rialto Theater. He also suggested considering a reduction in the amount of funding given to the museum.
"We need to take our $600,000 back and balance our own budget," said Hug who urged Rialto management to "step up" to find a way to raise the funds that would be lost. With about 60,000 tickets sold annually, Hug suggested raising ticket prices by $10 to recover the lost funding.
"Who would say no to an extra $10 per ticket?," asked Hug noting that without the funding the city could close a fire house. Hug said that Rialto management should be able to find a way to replace the 20% of their budget that the city's contribution represents.
Mayor Bob O'Dekirk said of the funding that "The reality is that there will be a day when that money is going to get cut off" and that the city should help the theater find more corporate partners.
Hug also asked Hock to have city department heads find up to 3% in total cuts from their departments to avoid dipping in to reserves. Hock compared the request to federal sequestration which asked for 10% cuts regardless of a program's importance.
"I'm not in favor of across the board flat rate cuts," Hock told Hug.
Mayor Bob O'Dekirk said that the biggest issue for securing a budget was the list of unknowns concerning its revenue streams with Springfield withholding millions in Motor Fuel Tax funds, Local Government Distributive (sales tax) Funds, and proposals to cut the city's LGDF funding ranging from 10-50%.
O'Dekirk, who said he has an issue with the property tax increase that could affect the city's housing recovery. He also said that the biggest unknown continues to be the city's final tab for the Evergreen Terrace development which so far has cost the city around $23 million.
"It's a huge black hole that's in our budget," said O'Dekirk who offered some glimmer of hope.
"Ultimately the way out of this is through economic development," said the mayor who noted that a dedicated economic development director would be hired next year to help "grow the pie and bring more revenue in to Joliet."
@BrockAStein