Flyers Squeak Out Win
12/22/2015, 8:47 a.m.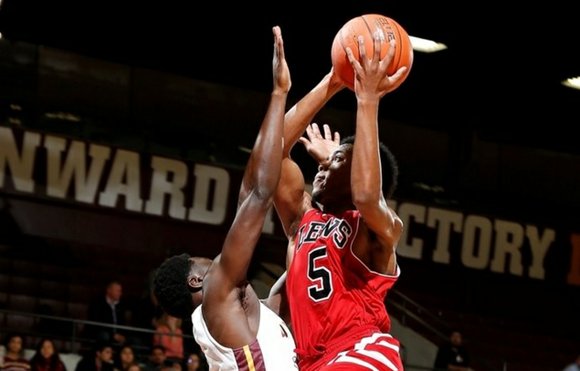 Lewis University sophomore forward Max Strus drained two of three free throw attempts with 0.7 seconds left to help the Flyer men's basketball team squeak past Malone with the 75-73 regional victory over the host Pioneers at Osborne Hall on Saturday afternoon.
With the score tied at 73, Lewis had the ball with 11 seconds left. Strus missed his initial game-winning attempt with seven seconds left, but freshman guard Delaney Blaylock corralled the offensive rebound to give the Flyers another chance.
Blaylock found Strus for another three-point attempt, but Malone senior guard Stephen O'Daniel III fouled him with one second left. Strus made the first two charity shots, but intentionally missed the third to secure the win for the Flyers. With the victory, Lewis improves to 8-2, while Malone falls to 3-6 on the campaign.
Strus totaled a game-high 25 points on 7-for-14 shooting, including 9-for-10 from the free throw line. Blaylock (11 points, 11 rebounds) notched his first career double-double, while senior center Kyle Nelson added 12 points and eight rebounds. Flyer junior point guard Miles Simelton scored 16 of his season-high 19 points (7-for-15) in the second half on 6-for-9 shooting. Simelton also tied a season-high with five rebounds.
Malone senior forward Mitchell Spotleson topped the Pioneers with a double-double of 22 points and 11 rebounds, including four three-pointers. Malone senior center Brian Stone posted 17 points and six rebounds, while O'Daniel had 14 points. Pioneer point guard Jay Parker had 10 points and a game-high eight assists in the loss.
"It's good to win on the road when you are not playing your best," Lewis head men's basketball coachScott Trost said. "Miles (Simelton) played like we know he can in the second half. You also have to give Malone credit, because they never quit," Trost continued. "They are a better team than their record indicates."
The Pioneers rallied twice in Saturday's contest, coming back from both a 15-point first half deficit and seven-point second half deficit. The seven-point deficit came with two minutes left in the game, as Lewis held a 71-64 lead over the Pioneers with 2:32 remaining in the contest. Malone went on a 7-0 run over the next 90 seconds to tie the game at 71 with 1:01 remaining, highlighted by three-pointers from both Spotleson and junior guard Christian Graves (6 points).
Following Graves' game-tying three-pointer, O'Daniel fouled Strus with 46 seconds left in the contest. Strus made both of his free throw attempts to push Lewis ahead 73-71.
Malone called a time-out and Spotleson drove for a game-tying lay-up with 32 seconds left, evening the score at 73 and setting the stage for Strus' heroics.
Lewis shot 47.4% (27-for-57) from the field and 37.5% (6-for-16) from three-point range. Malone utilized 17 offensive rebounds and outshot the Flyers, 74-57. The Pioneers, however, only managed to shoot 35.1% (26-for-74) from the field and 28.9% (11-for-38) from long distance.