Joliet council approves budget, tax levy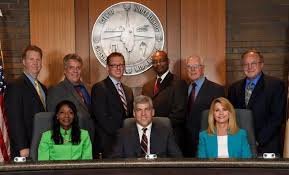 The Joliet City Council on Monday approved a budget for 2016 of just over $288 million as well as a tax levy of just over $39 million. The budget includes $167 million for the city's general fund.
The budget was approved on a vote of 6-2 with councilman Larry Hug and Jim McFarland voting against the measure.
The approval comes following several special budget meetings that were held in December in which the council rejected a proposed $2 increase in the real estate sales tax for every $100 of home sales. The increase would have had to be approved by voter referendum in the spring though the council rejected sending it to voters in a special meeting on December 14. The increase would have raised an estimated $1.1 million in revenue for capital expenses.
The council also rejected a previous budget proposal to raise property taxes by 5% and instead approved a 1.325% increase that will capture revenue from new growth but should not raise rates for current home owners.
The new budget includes a provision to outsource the city's in-house legal team to outside firms but creates a new assistant attorney/inspector general position and a new assistant city manager/economic development director positions. Councilman Michael Turk was the voice on the council in favor of keeping the legal counsel on staff.

The inspector general position is anticipated to pay $120,000 annually and the new deputy city manager job $145,000.
Mayor Bob O'Dekirk said that the city will look at the effectiveness of the outsourcing next year to "see if the savings are there."
The new budget also includes a separate approval to increase the city's library levy by 2%. Out of the total proposed $39 million levy for Joliet, the library will receive just over $5.9 million that will be used for facility upgrades and repairs including a new roof needed for the downtown Joliet branch. Councilman Jim McFarland voted against the increase.
The budget also includes the use of $400,000 in reserve funds to keep fire station #3 open after an agreement was reached with the fire union said city manager Jim Hock.
In total, the city will use around $6.8 million in reserve funds to balance the budget.
Following the long, drawn-out process, Councilman Larry Hug proposed that the city look at drafting an ordinance that will require a draft budget be ready by October 15 every year.
"So moving forward we don't go through this every year," said Hug.
The new budget also includes $600,000 in funding for the Rialto Theater despite calls by Hug to cut the funding.
@brockastein