Plainfield honors outgoing village planner Garrigan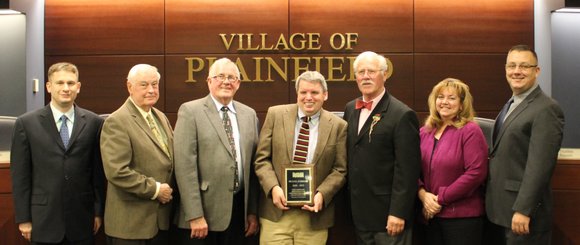 Plainfield Mayor Michael Collins said that he accepted the resignation of Plainfield Village Planner Michael Garrigan "reluctantly."
It would be understandable if Collins was having a difficult time letting the 15-year veteran of Plainfield's planning department go, considering that Garrigan has been with the village since it first experienced its most sizable growth spurt.
Since joining the village in 2000, Plainfield has grown from a relatively compact 13,000 residents to just over 42,000 today.
Garrigan announced that he was resigning to take a position with the Village of Antioch, Illinois as their community development director. Originally from Lake County, Garrigan said that he still has family in the area and was looking forward to new challenges in the new job.
He said that he came to Plainfield only expecting to stay for a couple of years as he made the career transition from practicing law to working in city planning. He said getting the job in Plainfield was a "great gig."
"I couldn't have asked for better," said Garrigan.
He said the new job in Antioch will provide some new challenges. Unlike Plainfield, and Will County, most of Lake County is already built out he said.
Garrigan said that he hopes the work he did will provide a "foundation for future generations."
In addition to receiving a plaque from the village, Mike Bortel and other members of the Plainfield Historic Preservation Committee recognized Garrigan for his work in protecting the historic character of the village especially for guiding the process that landed the downtown on the national register of historic places—one of only 15 towns in Illinois with that distinction. Garrigan also oversaw the process that lead to the restoration of the Plainfield Opera House, the Masonic Lodge, as well as the restoration of the Railoc Building/trolley barn at 24216 Lockport St. which is being retrofitted as the new company headquarters for Sheffield Safety and Loss Control which anchor the western edge of Lockport Street.
Trustee Jim Racich said that it will be difficult to find a replacement to match Garrigan's work ethic, professionalism, and intellect.
"You have been a real benefit to the Village of Plainfield," said Racich, "It will be difficult to meet your benchmark."