Plainfield snow removal slowed by equipment problems, officials said
Brock A. Stein | 2/3/2015, 1:04 p.m.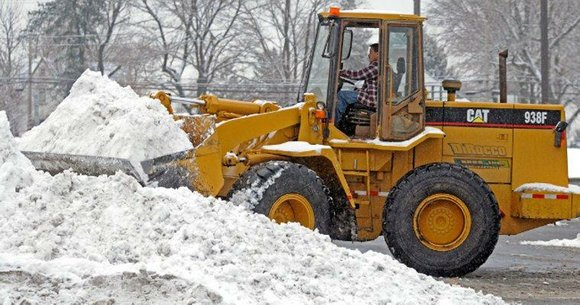 Fourteen inches of heavy wet snow and broken equipment meant crews were still clearing Plainfield streets and cul-de-sacs Monday night following Sunday's blizzard.
"This was a really challenging event for the village," Public Works Director Allen Persons told the Plainfield Village Board Monday.
Snow started falling Saturday, and one report called it "the fifth snowiest blizzard event" in the Chicago area, Persons said.
Public works crews reported around 9 p.m. Saturday to begin clearing streets working in 12- and 15-hour shifts.
Public works didn't learn of an equipment breakdown for one of its contractors until late Saturday/early Sunday morning, which resulted in "not ideal and lackluster" clearing of snow in areas in the south of the village, including the Vintage Harvest, Arbor, and Streams subdivisions, Persons said.
During a snow storm, public works divides into 12-person crews working 12-hour shifts that each cover 50 miles of the village's 400 miles of road way, he said. That includes 388 cul-de-sacs, each of which require about 15 minutes to be cleared.
Crews overlap between day and night shifts for about three hours during storms and are divided into four contractor crews and four village public work crews.
With the wet snow that fell, Persons said the village's equipment wasn't able to clear cul-de-sacs because of the weight. As a result, four additional contract crews with industrial front-end loaders had to be called in, he said.
"During this snow event, since there was 14 inches of snow, it was impossible to bring the trucks in to the cul-de-sacs," he said. "This was the best way to address this type of snow."

The village owns two front-end loaders but it wasn't enough to clear all of the cul-de-sacs as quickly as residents would have liked, Persons said. Buying more of the heavy equipment wouldn't make fiscal sense if it only gets used a handful of times during the winter, he said.
Resident Dustin Cooper said that his cul-de-sac wasn't cleared until Monday morning.
"To me that's a public safety issue," he told the board. "There's no way an ambulance, fire truck, police car could get there."
Greg Anzelc, who lives on another cul-de-sac in Arrowhead Court, said the village needs to plan better and have more equipment on hand.
"We have to prepare for the worst for the full winter," said Anzelc, who calculated the village needs about 18 vehicles just to clear the cul-de-sacs. "It's just simple math," he said.
Contact Brock A. Stein at Brocknewstips@gmail.com or on Twitter at @BrockAStein.