Wayne's Words: City police, fire woefully short of blacks, Hispanics, women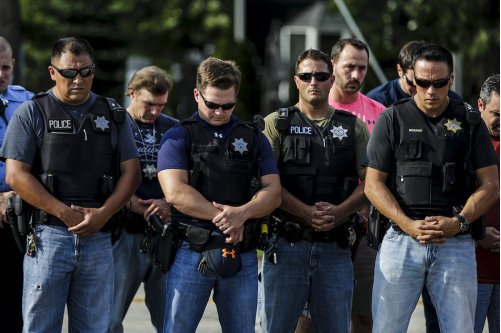 A few years back, the city of Joliet implemented a hiring freeze for new personnel. The action was taken in response to economic conditions that existed late in the last decade.

The Joliet Police Department is still about 60 officers down from its peak strength of more than 400 in 2008. The 2015 budget has lifted the freeze, and the city council voted to beef up the Neighborhood Oriented Police Teams by hiring of more officers.
A recently released Equal Employment Opportunity Program report highlights some of the hiring challenges facing the police department, including significant racial and gender discrepancies. According to the report, there is a general consensus that a law enforcement agency should mirror the racial distribution of the population it serves.
Across the nation when it comes to gender, most civilian positions in the police department are held by females and most sworn personnel (police on the street) are males. Nationwide, 88 percent of sworn officers are male and 61 percent of civilian police workers are female.
Statewide, Illinois cities between 100,000 and 200,000 populations have an average of 88 percent male sworn officers and 72 percent female civilian police workers.
According to the report, the Joliet department has a "serious deficit" when it comes to gender. The civilian workforce in Joliet is 92 percent female and sworn officers are 92 percent male. Joliet's gender diversity ranks next-to-last in communities in their population category.
Racial diversity on the JPD also does not "mirror the racial distribution of the population it serves." According to the U.S. Census Bureau, the population of Joliet is 54 percent white, 28 percent Hispanic or Latino, and 16 percent African-American. JPD is 85 percent white, 7 percent Hispanic and/or Latino, and 8 percent African-American.
There is no female Hispanic or Latino in a command position and only three are African-American females.
Recruiting efforts by the JPD have had no significant impact on female and minority hiring in the last decade, according to the report.
Police Chief Brian Benton said past recruiting efforts may have been hampered by the hiring freeze. No officers were hired between October 2008 and February 2013. A total of 29 officers have been hired since February 2013. Most of the officers hired during this period had previous police experience. The more experienced police officers hired were white males.
Benton said recruiting activities aimed at hiring more female and minority officers is a priority for the JPD. According to the report, a new recruiting brochure has been printed and all past recruiting efforts will continue. A copy of the EEOP report will be posted on the JPD website, which can be accessed at www.jolietpolice.org.
The Joliet Fire Department record on racial diversity and female scale fares worse than the JPD, according to a report received from Chief Joe Formhals. There are no female firefighters among the 209 sworn personnel. The civilian personnel within the department consist of three full-time secretaries, all female, one part-time white female secretary and one part-time white male emergency management director.
The racial diversity among sworn personnel is 93 percent white, 6 percent African-American and 1 percent Hispanic. Among command, there is one African-American captain and one Hispanic lieutenant and no females.
The consensus that racial and gender diversity should mirror the population served is far from reality and remains just conversation for most communities.
One last thing…
The city is holding a community design meeting from 6 to 8 p.m. Thursday at Billie Limacher Bicentennial Park for the purpose of discussing the future of Evergreen Terrace housing development on Broadway Street.
It has taken many years to actually come to a moment when the necessity of such a discussion can no longer be delayed. Now that the Joliet is the new owner of the housing complex, an outline of the "how do we do this" and "when to do it" needs to be developed. Better late than never, planning time has arrived. Stay tuned…
Contact Wayne Horne at whorne@thetimesweekly.com.