What makes a family happy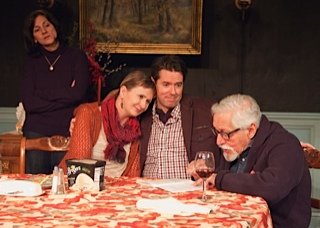 According to Tolstoy, "All happy families are alike; each unhappy family is unhappy in its own way." But what alchemy makes a family? Five dynamite theatrical productions playing around town provide five very different answers to that question.
The Apple Family Plays (That Hopey Changey Thing and Sorry). Timeline Theatre (Chicago Premieres, in rotation thru April 19)
The Apples are a Rhinebeck, New York, family: sisters–Barbara (Janet Ulrich Brooks ), a high school teacher; Marian (Juliet Hart), a second grade teacher; Jane (Mechelle Moe) a writer, and a brother, Richard (David Parkes), a lawyer in the State Attorney General's Office who lives in Manhattan and Uncle Richard Apple (Mike Nussbaum), a retired actor. Tim, an aspiring actor, (Artistic Director PJ Powers) lives with Jane in Manhattan.
These are two of the four plays commissioned from Richard Nelson by The Public Theatre (NY).
Set in real time on dates of historic significance–the 2010 mid-term elections and the 2012 presidential election–they offer glimpses of a family sitting and eating around the same dining room table, fighting and loving and sharing political and personal thoughts and feelings. A strong counterpoint is Uncle Richard who, in Hopey Changey, has come to live with Barbara after a heart attack and coma that have left him with serious amnesia, and later, in Sorry, is being moved to a nursing home, something he doesn't understand and would fight against if he did.
This production is a Timeline family affair: the actors, with the exception of Mr. Nussbaum are all Company Members as is director Louis Contey. The ensemble is impeccable. Mr. Nussbaum plays old Uncle Richard with heartbreaking mastery. Hard to believe that he is 91.
White Guy on The Bus. Northlight Theater (World Premiere, thru Feb 28)
In Bruce Graham's new play Roz (Mary Beth Fisher) and Ray (Francis Guinan) and are a wealthy white suburban couple who are surrogate parents to PhD manqué Christopher (Jordan Brown) and his wife Molly (Amanda Drinkall). Roz teaches in a ghetto school, and Ray is "a numbers guy" who rides the same bus every Saturday, where he gets to know Shatique (Patrese D. McClain), a struggling single black mom. Under BJ Jones sensitively calibrated direction, things start slowly with mundane stereotypical liberal pleasantries. Gradually, however, amid twists and turns so unexpected that the audience gasps, the bandaid covering racial and economic bias and hypocrisy is torn away to shattering result. The ensemble is excellent throughout. Roy and Shatique's final scene takes one's breath away.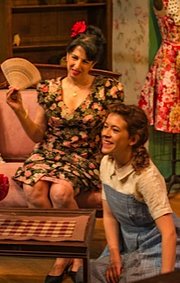 The Rose Tattoo. Shattered Globe Theatre @Theater Wit (Revival, thru Feb 28)
Serafina (Eileen Niccolai) is a Sicilian woman, only minimally successfully transplanted to an Italian-American community on Louisiana's Gulf Coast. Almost as soon as she finishes her first set piece about her wonderful husband, she learns she is a widow. And she falls apart. How did Tennessee Williams know the Sicilian psyche so well? Genius, of course, and the fact that all uprooteds have similarities: a kind of bi-polar collection of religious fanaticism, magical thinking, fantasies, curses, phobias, un-PC blurtings and the desire to control and protect their children so they will do better than their parents. [These days, Serafina Delle Rosa would be considered an abuser of her daughter, Rosa (Daniela Colucci)]. Serafina's operatic grief overwhelms all; her neighbors, inured to her difficult personality, shun her. Then, she crosses paths with Alvaro Mangiacavallo (Nic Grelli) and the coin flips to the fireworks of rebirth and love. Director Greg Vinkler and scenic designer Sarah Ross create a world where the audience, seated around the stage, becomes part of the action. Those who remember the movie with Anna Magnani and Burt Lancaster will be especially enchanted by Ms. Niccolai and Mr. Grelli who light up the stage.