Finally! Locally filmed 'Jupiter Ascending' hits theaters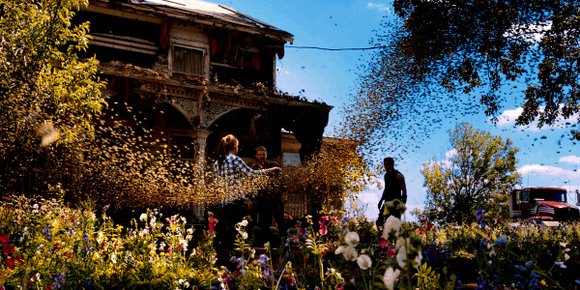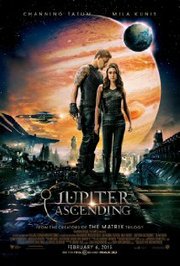 "Jupiter Ascending" may not be getting the best ratings, but how often do you go to the movies and get to see parts of Joliet and Minooka on the big screen?
For those who don't recall, the science fiction flick starring Channing Tatum and Mila Kunis -- and opening in theaters today -- was filmed in our area and parts of Chicago in summer 2013.
Residents staked out spots near Aux Sable Middle School, 2001 Wild Spring Road, where the film screw set up camp, and at a farmhouse near McKenna and Van Dyke roads, where a good deal of filming was done. Tatum and Kunis loved the attention, greeting fans and on occasion stopping to take photos.
The film, which is said to loaded with special effects, opens today and is playing at Cinemark Louis Joliet Mall in Joliet, AMC Showplace New Lenox 14, Regal Bolingbrook Stadium 12 and at iPic Theaters at The Promenade Bolingbrook.
The movie was written and directed by Andy and Lana Wachowski, who did the "Matrix" series. The film also stars Sean Bean, best known for "The Lord of the Rings," and Eddie Redmayne, nominated for an Academy Award for his role as Stephen Hawking in "The Theory of Everything."
Here's the movie description courtesy of www.rottentomatoes.com:
"From the streets of Chicago to the far-flung galaxies whirling through space, 'Jupiter Ascending' tells the story of Jupiter Jones (Mila Kunis), who was born under a night sky, with signs predicting she was destined for great things. Now grown, Jupiter dreams of the stars but wakes up to the cold reality of a job cleaning other people's houses and an endless run of bad breaks. Only when Caine (Channing Tatum), a genetically engineered ex-military hunter, arrives on Earth to track her down does Jupiter begin to glimpse the fate that has been waiting for her all along-her genetic signature marks her as next in line for an extraordinary inheritance that could alter the balance of the cosmos."
Contact Karen Sorensen at Karen@TheTimesWeekly.com.