Flyers Snap Losing Streak Victory Over Saint Joseph
2/8/2015, 10:54 a.m.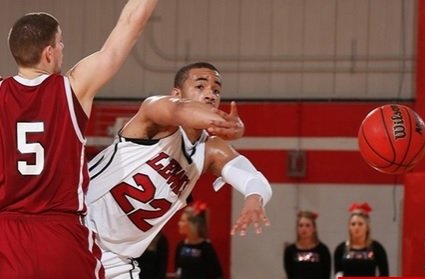 Lewis University senior guards Jeff Jarosz and Gabe Williams keyed a 14-2 second half run, helping the Flyers rally from a four-point deficit and end their three-game losing streak with the 88-76 Great Lakes Valley Conference victory over Saint Joseph's at Neil Carey Arena last week setting the tone for a push into final month of the season.
Jarosz and Williams both scored six points during that stretch to help the Flyers build a 73-65 lead that they would never relinquish. Jarosz finished with 19 points on 8-for-12 shooting, while Williams chipped in 12 points, including two three-pointers during the crucial run.
Lewis senior guard Ryan Jackson led the Flyers in points (25), assists (8) and rebounds (6). His 25 points ties his previous team-season high set earlier this season against Northwood. Flyer freshman Max Strus added 10 points in the win.
"This was a good win for us," Lewis head men's basketball coach Scott Trost said. "Our guys have been lacking a bit of confidence, so hopefully this win will give them the edge we've been looking for.
"I thought we responded well tonight," Trost continued. "We haven't closed out games in the past and I thought we really played well the last 10 minutes of the game (tonight)."
With the win, Lewis improves to 13-6 overall and 5-5 in GLVC action, while the visiting Pumas drop to 5-15 on the campaign and 2-8 in conference play.
Saint Joseph's senior guard Cameron Vines, who entered the game as the second-leading scorer in the GLVC, posted 19 points on 5-for-15 shooting from the floor., Puma reserve senior forward Ryan Rebholz drained four three-pointers and finished with 14 points, while junior guard Dawson Gore had 13 points and three trifectas. SJC forwards Jordan Seele and Nathan Tidwell (8 rebounds) each had 11 points in the loss.
The Flyers finished with a season-high 35 field goals and shot 56.5% (35-for-62) from the floor. Rebholz and Gore combined for seven of the Pumas' 11 three-pointers on the evening.