JTHS teachers honored, fundraisers planned, more
2/8/2015, 8:56 p.m.
Here's a roundup of news from Joliet Township High School District 204:
JTHS teachers honored by Joliet Region Chamber of Commerce
Eight Joliet Township High School teachers received the Joliet Region Chamber of Commerce and Industry's Joliet Area Great Teachers Award during a Jan. 28 ceremony at the Jacob Henry Mansion in Joliet.
The teachers were selected from a list of educators from the Joliet area who were nominated by their students, peers, administrators and members of the community based on criteria from author Tom Whitaker's What Great Teachers Do Differently.
Joliet Central High School recipients are Mike Fiske, Chris McGuffey, Rodney Coatney, and Jeff Riley.
Joliet West High School recipients are Kathy Lingafelter, John Barber, Paul Oswald, and Magdalena Maslowski.
Joliet Cyborgs team to test robot at community exhibit
The Joliet Township High School Joliet Cyborgs Robotics Team will test their latest robot during a public exhibition from 5 to 7 p.m. Feb. 17 in the JTHS Administration Center Board Room, 300 Caterpillar Drive in Joliet.

Members of the public are invited to watch the students' work in action as the robot performs programmed skills in preparation for this year's FIRST Robotics Competition challenge, Recycle Rush.
This is the Joliet Cyborgs fourth consecutive year of participation in the Midwest Regional FIRST Robotics Competition. They finished 9th last year out of a field of 54 teams. The international competition "For Inspiration and Recognition of Science and Technology" pairs high school students with professional mentors to design, build and program a robot in six weeks to compete in a sports-like event.
To RSVP for the Community Exhibition, contact Carol Collins at ccollins@jths.org or 815-774-1692.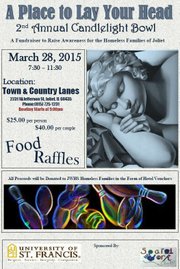 USF club hosting fundraiser for Joliet West families in need
A candlelight bowl fundraiser will be held March 28 to raise awareness and assist homeless families in Joliet. All proceeds will be donated to help homeless families at Joliet West High School.
The fundraiser is organized by students in the University of St. Francis' Social Work Club. The club became inspired to help the families at Joliet West High School after JWHS Social Worker Jean McCormick spoke to the students.
The fundraiser takes place from 7:30 to 11:30 p.m. at Town & Country Lanes 2231 W Jefferson Street in Joliet. Tickets are $25 per person and $40 per couple, and food and raffles will be available. Check-in begins at 7:15 p.m. and bowling begins at 9 p.m.
Tickets may be purchased at the door or call Jean McCormick at 815-727-6932.
JTHS Foundation's trivia fundraiser set for March 8
The Joliet Township High School Foundation will host its tenth annual Trivia Day at 2 p.m. March 8 at 176 West, 1100 NE Frontage Road in Joliet.
Teams of between six and 10 individuals are being sought for the 90-minute battle of wits.
The contest theme this year is "Let the Games Begin" and will involve ten rounds with 10 questions in each round. Teams are encouraged to work together and get their answer sheets in on deadline. There will also be a silent auction and raffle tickets sold for prizes.
All funds raised go for educational grants and scholarships. As an added incentive to participate, the first and second place teams will get a cash prize.
The cost of each table is $120 for six to 10 participants and may be paid in advance or at the door. To sign up, call Don Barnes at 815-254-4578 or Sue Harris at 815-774-1684 (email sharris@jths.org).