Valley View holding upcoming events, salutes honored students
2/9/2015, 11:28 p.m.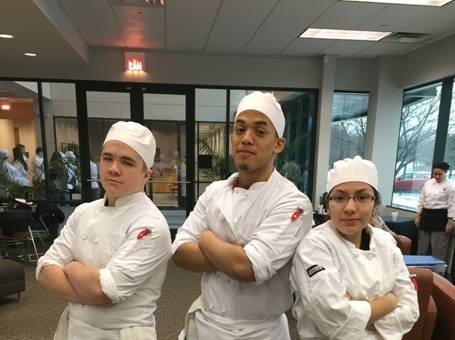 Here's a roundup of news from Valley View School District 365U:
BHS' Richard Taylor qualifies for state culinary arts competition
Bolingbrook High School junior Richard Taylor has earned a berth in the March Family, Career and Community Leaders of America Illinois State STAR Culinary competition.
Taylor qualified in regional competition Thursday at Robert Morris University after being judged on a variety of culinary skills and applications including safety and sanitation, organization, time management, knife skills, and presentation.
He is a student in the BHS Culinary Arts II course and hopes to attend a culinary school when he graduates from high school.
FCCLA STAR (Students Taking Action with Recognition) events recognize students for proficiency and achievement in chapter and individual projects, leadership skills, and career preparation. STAR events offer individual skill development and application of learning through cooperative, individualized, and competitive activities.
Public invited to college sports recruiting seminar at BHS
Bolingbrook High School will host a Feb. 11 recruiting seminar "Athletic Recruiting Simplified" with Bob Chmiel from the National Collegiate Scouting Association, who will speak on the recruiting process for student-athletes.
Chmiel, with more than 20 years' experience in recruiting, coaching and personnel development under coaches Lou Holtz, Bo Schembechler and Lee Corso, delivers educational recruiting talks to student-athletes, families and high school coaches nationwide.
After completing his coaching career, Chmiel was a college football analyst for ESPN and has also provided commentary for Comcast Sports. He writes for Blue & Gold Publications and is the host for "Sports Talk" on WSBT Radio in South Bend, Indiana.
The 7 p.m. event is free and is in the BHS cafeteria. Enter through Door 17.
Irene King Family Math Night is Feb. 12
Math games, food and fun will be the order of the evening at Irene King Elementary School's Family Math Night Thursday, Feb. 12.
Families are welcome to participate in a variety of math games anytime between 6 and 7:30 p.m. A book fair will also take place from 5 to 7:30 p.m. in the library.
Dinner, including a taco, chips and a drink, will be available for $1 from 5 to 5:45 p.m.
Students must be accompanied by an adult.
Music boosters invited eighth-grade parents to info night
The Bolingbrook High School Music Boosters are inviting parents of current 8th grade students to learn more about the organization at an informal gathering on Tuesday, Feb. 10.
The 7 p.m. meeting will take place in A147 which is the BHS Choir Room. Participants should enter via Door 4.
Light refreshments will be served.
Questions may be directed to Music Boosters President Nicki Fagust at Nickif@comcast.net or 630-854-9731.
RHS sending 13 students to DECA state finals
Thirteen Romeoville High School students qualified for the Illinois DECA (Distributive Education Clubs of America) state finals in Decatur March 12-14 with strong performances at sectionals.
They are: Gloria Awinongya (Business Law and Ethics), Julianna Bochnak (Accounting Applications), Janette Cortes (Buying and Merchandising), Nicoletta Crowley (Hotel and Lodging), Aldo Diaz (Buying and Merchandising), Jacob Dipego (Restaurant and Food Service), and Josh Gitogo (Human Resource Management).
Also: Kelsea Higgins (Business Services), Yasmin Isa (Business Law and Ethics), Lichon Bartlomiej (Retail Merchandising), Terralyne Powe (Buying and Merchandising), Adam Suliga (Food Marketing), and Angela Webb (Buying and Merchandising).
BHS students to be ambassadors for People to People
Two Bolingbrook High School students have been selected to participate as Student Ambassadors for the People to People program.
Jada Simpson and Megan Sterling will embark on a 19-day service-learning experience this summer, traveling on the Mediterranean Traditions program.
They will learn about various customs and cultures as they visit Italy, France, and Spain.