Lewis Uses Strong Second Half To Close Out Rockhurst
2/10/2015, 6:41 p.m.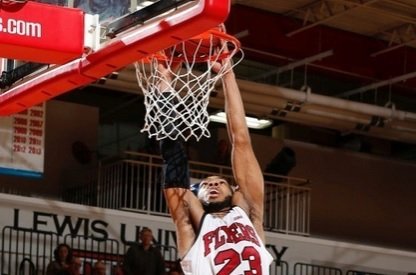 The first half of Saturday's Great Lakes Valley Conference men's basketball match-up between Lewis University and Rockhurst University featured 17 lead changes, but the second half was all Flyers.
Lewis outscored Rockhurst 22-10 to open the final 20 minutes and earned the 85-65 GLVC win over the host Hawks, extending its winning streak to four games, at Mason-Halpin Fieldhouse.
Lewis freshman guard Max Strus led the Flyers with 16 points, while junior forward Kyle Nelson posted 12 points. Lewis senior forward Julian Lewis compiled a double-double of 15 points and 10 rebounds in the victory. Flyer senior guard Ryan Jackson tied a career-high with nine assists in the win.
"We played a very good second half today," Lewis head men's basketball coach Scott Trost said. "Max (Strus) was very good and I thought Julian (Lewis) was fantastic in the second half.
"This was a very good weekend with two road wins."
WIth the win, Lewis improves to 16-6 overall and 8-5 in GLVC action, while the host Hawks drop to 6-15 on the campaign and 2-11 in conference play.
Rockhurst senior center Kareem Amedu collected a game-high 16 points for the Hawks, while senior forward Liam Duffy posted 10 points. Hawks forward Russell Burns grabbed 10 rebounds in the loss.
The Flyers were solid all around, as they shot 49.2% (31-for-63) from the floor, outrebounded Rockhurst, 45-36, and tied a season-low with just six turnovers. Lewis also held Rockhurst to a 34.4% (21-for-61) shooting performance from the floor.
Lewis returns to action on Thursday as they welcome Drury to Neil Carey Arena for a 7:30 PM tip-off.