Plainfield public works reviewing snow removal plans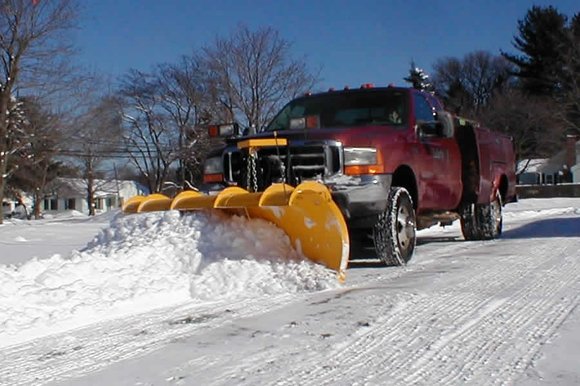 A storm that dumped 14 inches of snow on Plainfield has the village's public works department reviewing its response to the storm and how to improve its performance during the next snow event.
Public Works Director Allen Persons said Monday that the village miscalculated in its initial response to the storm when it started the night of Saturday January 31.
Persons said that the storm initially started as rain, and public works crews began applying salt to the main roadways before snow began to fall. After a review, he said, the village should have been more aggressive in its application.
"We agree that we could have been more liberal in applying more salt on Saturday," said Persons. In total, the village applied about 700 tons of salt to roadways during the snow storm which lasted until early Monday February 2.
About 14 inches in total fell on the area during the two day event. Persons said that applying more salt to the road way could have helped crews as they worked on the cleanup.
"However if we had applied additional salt on the roadways earlier in the storm it may have allowed the village to remove the snow and ice more easily before it had adhered to the pavement," he said.
Persons said that all public works employees from their streets, sewer and water departments were working on clearing snow during the two days including supervisors. He said that two contractors who experienced equipment breakdowns didn't report until early Sunday at which time village crews had to redo some routes. Four additional contractors were called Sunday to assist with the effort focusing specifically on clearing cul-de-sacs where industrial end loaders were required to move the heavy snow.
Despite those challenges, Persons said that an internal review showed that the department didn't meet the expectations of residents, some of whom couldn't get to work on Monday morning.
"We collectively understand that the response to the storm…is not what our residents have come to expect within our community," said Persons.
"Quite frankly it didn't meet our standards."
Persons said that public works staff will review their procedures and those governing their contractors to improve their response to the next storm.
Complaints following the storm included many from residents who lived on cul-de-sacs, with many saying that their streets hadn't been cleared until Monday morning.
Resident Dustin Cooper who lives on one of those streets told the village board the Monday after the storm that his un-cleared street was a "public safety issue" that could prevent emergency crews from reaching a home.