Craig Robinson
The "Hot Tub Time Machine 2" Interview with Kam Williams
Kam Williams | 2/18/2015, 8:02 p.m.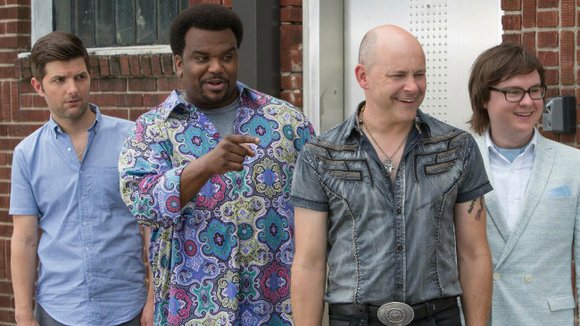 Back with the Boys, Back in the Tub, and Backwards in Time Again
Craig Robinson is arguably best known for his role as acerbic Dunder-Mifflin employee Darryl Philbin on NBC's Emmy-winning The Office. Regardless of what role you know him from, he is definitely a world away from his original career intentions.
Before deciding to pursue his comedy career full time, Craig was a K-8 teacher in the Chicago Public School System. He earned his undergraduate degree from Illinois State University and his Masters of Education from St. Xavier University.
It was while he was studying Education that he also discovered his love of acting and comedy when he joined the famed Second City Theatre.
As a stand-up comic, Craig first made a splash at the 1998 "Just for Laughs" Festival in Montreal. That year, he also won the Miller Genuine Draft Comedy Search.
He soon went on to perform on The Jimmy Kimmel Show and on Real Time with Bill Maher. Now, headlining venues and festivals across the country, he does both solo acts as well as sets with his seven-piece band, The Nasty Delicious, thereby tying together his lyrical comedy with his finesse at the piano.
Success on The Office and his stand-up prowess quickly brought Craig to the attention of Judd Apatow who cast him as the sensitive bouncer in Knocked Up. He subsequently kept audiences glued to their seats as one of the henchman hunting Seth Rogen and James Franco's bumbling stoner characters in Pineapple Express, and made fans squirm when he co-starred with Seth Rogen and Elizabeth Banks in Zack and Miri Make a Porno.
More recently, Craig has starred in Escape from Planet Earth, Peeples and This Is the End. And later this year, look for the premiere of Mr. Robinson, a TV show loosely based on his life as a teacher in Chicago.
Here, he talks about reprising the role of Nick in Hot Tub Time Machine 2, a sci-fi comedy co-starring Rob Corddry, Clark Duke and Adam Scott.
Kam Williams: Hey Craig, thanks for another interview.
Craig Robinson: My pleasure, Kam. How're you doing?
KW: I'm doing great. How about yourself?
CR: I'm good. Thanks for getting the word out.
KW: Of course. As usual, I'll be mixing in my questions with some from readers. Let me start with: What was the primary challenge you faced in getting back into the hot tub?
CR: With the addition of Adam Scott to the principal cast, the primary challenge was whether there would be chemistry. But that worry quickly changed to "Oh, it's on!" So, the initial concern was about what was going to happen. Besides that, the heat was an issue at times, since we shot in New Orleans for a couple months.
KW: What was it like getting back together with director Steve Pink and your co-stars Rob and Clark?
CR: There's nothing but love and trust there, so it was great. It was like being with friends, with people you already know. So, you have a sense of what makes each other tick and what makes each other laugh. Plus you bring along what you've learned since last time. The familiarity was wonderful!