Cheesy Beef Lasagna
2/22/2015, 2:15 a.m.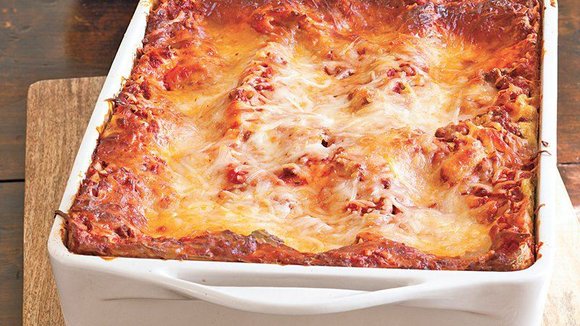 SERVINGS: 8
Ingredients
12 uncooked lasagna noodles
1 container (24 oz) 4% small-curd cottage cheese
1 container (15 oz) ricotta cheese
2 eggs, slightly beaten
½ cup refrigerated basil pesto
1 teaspoon salt
2 ½ cups shredded mozzarella cheese (10 oz)
1 lb lean (at least 80%) ground beef
½ cup finely chopped onion (1 medium)
2 jars (24 oz each) tomato and basil pasta sauce
Directions

Heat oven to 375°F. Spray 13x9-inch (3-quart) glass baking dish with cooking spray. Cook and drain lasagna noodles as directed on package, using minimum cook time.

Meanwhile, in medium bowl, stir together cottage cheese, ricotta cheese, eggs, pesto and salt. Stir in 1 cup of the mozzarella cheese. Set aside.

In 12-inch skillet, cook beef and onion over medium-high heat 5 to 7 minutes, stirring occasionally, until beef is thoroughly cooked; drain. Stir in pasta sauce.

Spread 1 cup beef mixture in baking dish; top with 3 noodles and 2 1/2 cups cheese mixture. Top with 3 noodles, 2 cups beef mixture and 3 more noodles. Top with remaining cheese mixture, 3 noodles and remaining beef mixture. Sprinkle with remaining 1 1/2 cups mozzarella cheese.

Cover; bake 40 to 45 minutes. Uncover; bake 20 minutes longer or until cheese is browned. Let stand 10 to 15 minutes before serving.