Tex-Mex Lasagna
2/23/2015, 2:09 a.m.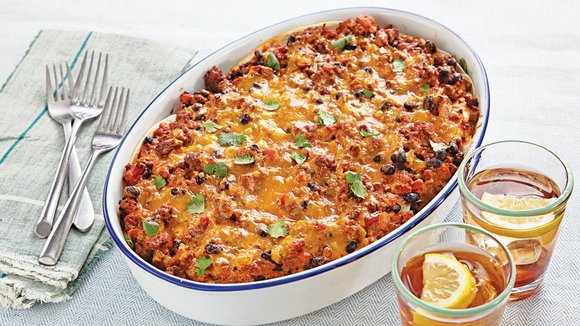 SERVINGS: 8
Ingredients
1 ½ lb ground beef round
1 teaspoon finely chopped garlic
1 can (15 oz) black beans, drained, rinsed
2 cups shredded sharp Cheddar cheese (8 oz)
2 tablespoons chili powder
½ teaspoon ground cumin
1 jar (16 oz) chunky salsa
1 can (10 oz) diced tomatoes with green chiles, drained
1 container (8 oz) sour cream
6 flour tortillas (10 inch)
DIRECTIONS:
Heat oven to 425°F. Spray 3-quart casserole with cooking spray.

In 12-inch nonstick skillet, cook beef and garlic over medium-high heat 5 to 7 minutes, stirring occasionally, until beef is thoroughly cooked; drain.

In large bowl, stir together beef, beans, 1 cup of the cheese, the chili powder, cumin, salsa, tomatoes and sour cream. In casserole, place 2 tortillas. Spoon one-third of beef mixture over tortillas. Repeat layers twice. Sprinkle with remaining 1 cup cheese.

Bake uncovered 15 minutes or until bubbly and cheese is melted. Garnish with fresh cilantro leaves, if desired.