Third Valley View teacher nominated for Golden Apple
2/24/2015, 8:17 a.m.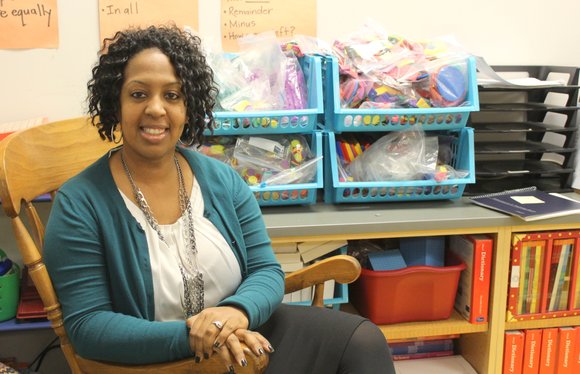 Valley View School District 365U provided this story. Chantel Asim joins Cindy Zylstra and Erin Preder, who work at Tibbott Elementary School in Bolingbrook, as the district's nominees for the Golden Apple Award this year.
Jonas Salk's Chantel Asim demands a lot from her 3rd-grade students.
That's because the 2014-15 Golden Apple Award nominee's own teachers demanded the best effort from her.
"I had great teachers growing up. That's what inspired me to become a teacher," Asim said. "They always insisted that I worked at my personal best. They held me accountable. That's why I hold my kids accountable."
Asim, who originally intended to teach law and thus obtained her bachelor's degree in Political Science and Afro-American studies from UCLA, has been teaching for quite some time including eight years in the Los Angeles public school system, three years at Oak View Elementary School and nearly six years at Salk Elementary in Bolingbrook.
She has served as a Social Studies and Reading liaison, a teacher mentor and a Gradequick representative, and is currently a member of the VVSD Visual Learning Committee and the Salk Leadership Team.
"I think a teacher's job is more difficult today because the kids have a lot more outside influences. They come to school with more pressures," Asim said. "As teachers, we need to understand that for some students, our classroom may be the only structured, consistent part of their day. That is why I strive to create a positive, nurturing environment where students are given the opportunity to be successful."
Asim empathized with today's parents who are facing a variety of pressures themselves including ever increasing demands on their own time. "I consistently keep in mind how outside factors may affect the lives of my students. However, my ultimate goal is to provide them with the tools to be successful in life."
Asim was "shocked and surprised" when she learned of her Golden Apple nomination.
"I am so honored," she said. "I'm excited to see what the future holds."
The Golden Apple Awards for Excellence in Teaching was the idea of Golden Apple founder Martin J. (Mike) Koldyke, who felt that excellent teachers did not receive adequate recognition for their contributions to building a stronger, better-educated society.
Every year since 1986, Golden Apple has chosen 10 outstanding teachers to receive this prestigious award. These teachers become lifetime members of the Golden Apple Academy of Educators, which conceives, develops and supports programs for teachers to make them more effective in the classroom.
Golden Apple is a non-profit organization that works to inspire, develop and support teacher excellence in Illinois, especially in schools of need.