The Wide World of Wine: 2015 South Beach Wine and Food Festival presented by Food & Wine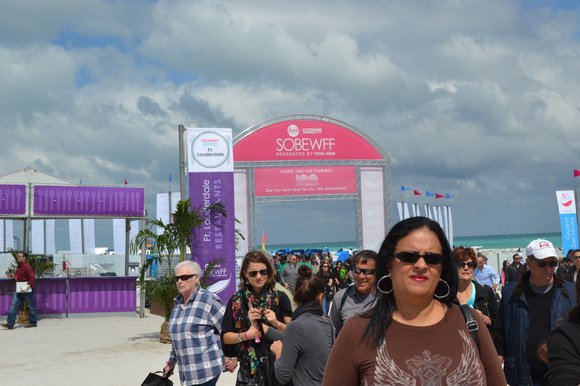 The 2015 edition of the South Beach Wine & Food Festival, presented by Food & Wine is history, but for oenophiles and grastronomes, it marked the end of the year's first serious

bacchanal and certainly the nation's biggest beach party.
The massive Whoe Foods Grand Tasting Village along the expansive of Miami Beach is the focus of the festival's major events. Barilla Pasta rolled out a team of its top chefs from Rome to unveil its new line of one-pot pasta dishes. Chefs showed off their prowess, flipping the steaming and flaming sautee pans to the delight of the sell-out crowd. The tasty pasta dishes laid the base to absorb the massive amount of premium wines and the latest spirits, prepared in innovative cocktails by Miami's top mixologists. Palm Bay rolled out its vast array of premium sparklking and still wines with no less than President and CEO Marc Taub of Palm Bay International and Philippe Carrie, Vice President of Palm Bay's Esprit Du Vin division personally pouring.
Over at the Miami Beach Convention Center, Thomas Matthews, Executive Editor, Wine Spectator, presided a series of wine seminars that explored the finest wines from around the globe. Wines tasted ranged from the Old World, with Alex Gambal, the dynamic negotiant, presenting the prestigious Champagned from Gosset and Laurent-Perrier and Thomas Henriuot, Director of Sales and Marketing, Maisons and Domaines Henriot presenting a dazzling array of Champagnes, including iyd $350 a bo0ttle Champagne Henriot Bruty Millessune 2005.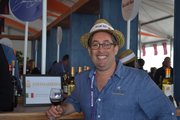 "This is the 'inner sanctum,' Wine Spectator Executive Editor Thomas Matthews said of the jam-packed tastings. "You could have been out under the big tents, fighting the crowds and with sand in your shoes. Instead you chose to be here, where the emphasis is on the wine. These tastings give substance to the word wine in the title of the South Beach Wine and Food Festival and it has been my privilege to stand before you at these tastings for the past 14 years."
Amstel Light's Burger Bash hosted by Rachel Ray attracted the most media attention. Four-time winner Michael Symon sat out this year's competition. Lure's Josh Capon was named Best Burger with his caramelized onion, bacon jam and shaved pickle creation. The People's Choice award went to Miami local Pincho Factory with the Croquesta-a brisket, short rib and chuck croquette topped with Swiss cheese, pickles, mustard and mayo on a brioche bun.