Luxury apartments proposed for 143rd/I-355 in Lockport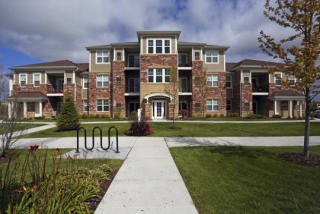 A 240-unit luxury apartment complex that would feature such amenities as stainless steel appliances, enclosed parking and valet trash removal has been proposed for Lockport.
The Highlands of Lockport, to be built at 143rd Street and Interstate 355, will also include six outlots that could be used for a hotel, gas station and other retail and restaurant developments, Equibase Capital Group spokesman Tim Grogan told the Lockport City Council Wednesday night.
The $13 million development will be almost identical to the Algonquin Square Apartments, which the company built in northwest suburban Algonquin and where units rent for anywhere from $1,100 to more than $1,500 a month.
The 12 brick-and-limestone buildings will feature a mix of two- and three-story levels containing 20 units each. The one- and two-bedroom apartments will have granite counter tops, in-unit washers and dryers, faux wood floors and other high-end comforts.
Shared amenities include a clubhouse, outdoor pool, lounge area, exercise room, outdoor recreational areas, barbecue grills and free-standing garages.
A valet trash pickup service will allow residents to place their garbage outside their doors nightly to be picked up by on-site staff.
"We're not building a second-rate development here," Grogan said. "We're trying to adapt to the market and the demographics of who's going to be living here."
Construction will not begin until after the city has built a lift station to provide water and sewer service to the site, a project that will be funded through the impact fees paid by the apartment developers, City Manager Ben Benson said.
That work is expected to be done this year, with development construction to follow in 2016 and occupancy expected later that year, Benson said.
In addition to 500 temporary construction jobs, Grogran said the development would also create about 140 permanent jobs. Property taxes paid to all districts will total $1.16 million annually, according to the developer.
The council is expected to approve the complex's preliminary plan at its Jan. 21 meeting, Benson said.
Contact Karen Sorensen at Karen@TheTimesWeekly.com.