One-Pan Mediterranean Roasted Fish Dinner
1/9/2015, 3:55 a.m.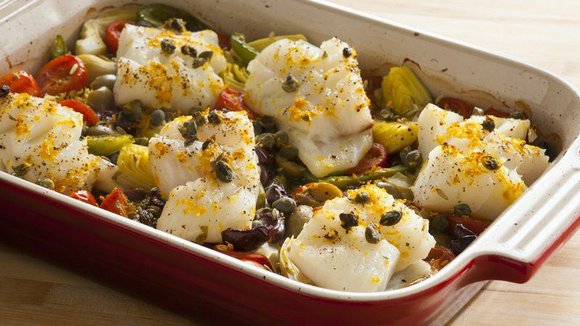 SERVINGS: 4
Ingredients
1 tablespoons olive oil
1 can (14 oz) artichoke hearts, drained, or 14 oz frozen artichoke hearts
1 pint (2 cups) cherry tomatoes
1/2 cup halved pitted olives
1 green bell pepper, cut into strips
4 cloves garlic, crushed
1 tablespoon fennel seed
1 1/2 lb cod, cut into 4 to 6 portions
2 tablespoons drained capers
4 1/2 teaspoons grated orange peel (1 medium)
1/3 to 1/2 cup fresh orange juice (1 medium)
Salt and pepper to taste
Directions
Heat oven to 450°F. Drizzle 15x10-inch pan with sides or large shallow roasting pan with 1 tablespoon olive oil.
Arrange artichoke hearts, tomatoes, olives, bell pepper, garlic and fennel seed in pan. Arrange fish over vegetables. Top with capers, orange peel, orange juice, salt and pepper.
Bake 30 minutes or until vegetables are tender and fish flakes easily with fork.
If desired, serve with rice, pasta or potatoes, green salad and/or crusty bread.