Red Curry Chicken and Vegetable Soup
1/12/2015, 5:52 a.m.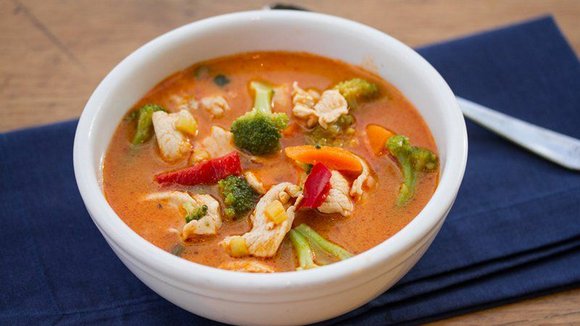 SERVINGS: 6
Ingredients
2 teaspoons vegetable oil
1 lb boneless skinless chicken breast, cut into thin strips
4 green onions, thinly sliced, white and green parts separated
3 tablespoons Thai red curry paste
3 cups chicken broth (from 32-oz carton)
1 cup light coconut milk, from 13.66-oz can (not cream of coconut)
2 boxes (7 oz each) Green Giant™ Steamers™ frozen antioxidant blend (broccoli, carrots, sweet peppers)
1 tablespoon freshly squeezed lime juice
Chopped fresh cilantro, if desired
Directions
In 4-quart nonstick Dutch oven, heat oil over medium-high heat. Add chicken, cook about 3 minutes, stirring frequently, until cooked through. Add white parts of green onion; cook about 1 minute or until starting to soften. Add red curry paste and cook for another minute, stirring constantly.
Add chicken broth and coconut milk; simmer 10 minutes. Add frozen vegetables; cook 5 minutes. Remove from heat; stir in lime juice. Garnish with remaining green onions and cilantro; serve immediately.