Chili Chicken Soup with Cilantro Dumplings
1/14/2015, 6:52 p.m.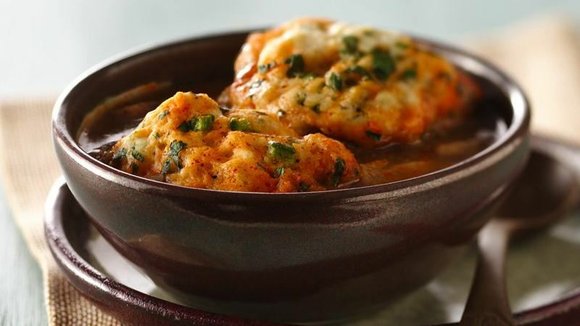 SERVINGS: 5
Ingredients
Soup
1 tablespoon vegetable oil
1 ¼ lb boneless skinless chicken breasts, cut into 1-inch cubes
1 medium onion, chopped (1/2 cup)
3 teaspoons chili powder
½ to 1 teaspoon salt
5 cups chicken broth (from two 32-oz cartons)
Dumplings
2 cups Original Bisquick™ mix
2/3 cup milk
½ cup chopped fresh cilantro
½ teaspoon ground cumin
1 jalapeño chile, seeded, chopped, if desired
Directions

In 3-quart saucepan, heat oil over medium heat. Cook chicken, onion, chili powder and salt in oil, stirring frequently, until chicken is browned. Stir in broth. Heat to boiling; reduce heat to medium. Simmer uncovered 5 minutes.

Meanwhile, in medium bowl, mix Bisquick mix and milk until soft dough forms. Fold in cilantro, cumin and chile. Drop dough by 10 spoonfuls onto simmering soup. Cook uncovered 10 minutes. Cover; cook 10 minutes longer.