Kevin Hart talks about 'The Wedding Ringer'
Straight from the "Hart"
Kam Williams | 1/14/2015, 9:09 p.m.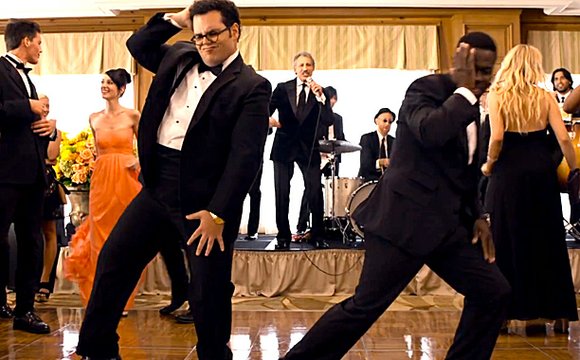 Kevin Hart might be the hardest working man in Hollywood. Just last year, he starred in a trio of feature films: Ride Along, About Last Night and Think like a Man Too, and enjoyed supporting roles in Top Five and School Dance, too.
Meanwhile, he has his hit TV show, Real Husbands of Hollywood, for which he won the NAACP Image Award in the Best Actor in a Comedy Series Award. In 2014, the NAACP also named Kevin the Entertainer of the Year.
The irrepressible comedian shows no sign of letting up, between presently releasing The Wedding Ringer, and following that up with Get Hard in March. And he's already wrapped work on Ride Along 2, and has The Secret Life of Pets, Central Intelligence and Captain Underpants in production.
However, Kevin did make time in his hectic to get engaged to his fiancée, model Eniko Parrish. Here, he talks about his new movie, The Wedding Ringer, a comedy co-starring Josh Gad and Kelly Cuoco-Sweeting.
Kam Williams: Hi Kevin, thanks for the interview. How're you doing?
Kevin Hart: I'm great, Kam.
KW: What interested you in The Wedding Ringer?
KH: It was the great script. I got it about five or six months before we started shooting. And it had been sitting around for quite some time. You're talking eight to ten years.
KW: Wow! What gave you the confidence to pull the trigger?
KH: I thought it would be a good vehicle for me, and would show me in a different light. It's a film where I could display some versatility. That's why I said I wanted to do it. It was different from any movie I'd ever done before.
KW: Did you worry that the premise was so farfetched that it might be hard to pull off?
KH: No, because it was grounded. Reading the script, as crazy and unbelievable as the premise was, the characters were actually grounded. The road to friendship between Jimmy [played by Kevin] and Doug [played by Josh Gad] was what I thought was really unique about the picture. It made it so much more than just a movie about a wedding. It's really about a guy who told a lie, and his lie spirals out of control to the point that he hires somebody to kind of make that lie a reality. And along those lines, the two of them actually end up liking each and realizing that their bond was necessary, because it's something that people need. These are two people who avoided friendship for so long because they thought they didn't need it. But then they realize, "Damn! This is a void that needs to be filled." And following through with that is what this movie is ultimately about.
KW: How would you summarize the message you want people to take away from The Wedding Ringer?
KH: That friendship is important, regardless of who you are, how tough you are, or how much of a loner you might be. The thought of not having companionship is not a good thing. It's something that we, as humans, need. And I feel that once you get a dose of it, and it's genuine, it's something you want for a long time.