County implements Narcan distribution program
1/15/2015, 9:06 a.m.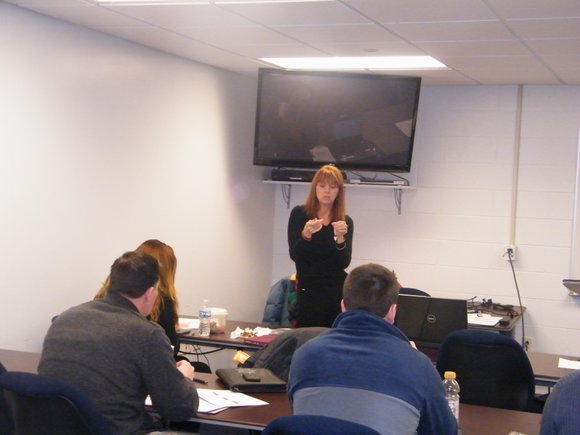 The Will County Executive's office issued this news release:
The Will County Executive's office offered its first training on the administration of naloxone, a potent drug that can reverse a heroin overdose, to officers in the Bolingbrook Police Department. This initiative is part of Will County HELPS (Heroin Education Leads to Preventative Solutions), a strategy created to fight the heroin epidemic that is affecting communities across the county and the United States.
"We began this effort four years ago to raise awareness about heroin abuse in our communities," said Will County Executive Larry Walsh. "We have been successful in hosting numerous community forums and bringing this issue to the forefront. We have seen a decrease in the number of overdose deaths which we attribute to the increase in knowledge about the dangers of this horrible drug. The Will County Narcan program will help save lives and allow people to get the treatment they need."
With the passage of the Good Samaritan Law (Public Act 097-0678) in 2012, anyone making a "good faith effort" to offer emergency medical help, including the administering of Narcan, to someone experiencing a drug-related overdose is immune from criminal prosecution. This new law has encouraged many local law enforcement agencies to become trained in the administering of naloxone. The county is working with Dr. Kathleen Burke of Strategic Prevention to conduct this training.
"Our officers are usually the first on scene of a drug overdose call and by carrying the Narcan, we will be able to give immediate aid to a victim of an overdose," Bolingbrook Police Department Lieutenant of Professional Standards and Media Relations Mike Rompa
The county's goal is to train as many police agencies across the county as possible. In
addition to the naloxone training, Will County HELPS has partnered with the Robert Crown Center for Health Education to deliver a heroin prevention curriculum to eighth grade students in the Valley View School District.
"We have been effective in our efforts to reduce heroin overdose deaths," Walsh said. "Our hope is the education and the antidote will continue to help us in our fight against this horrible drug."
CAPTION - Dr. Kathleen Burke of Strategic Prevention demonstrates how to fill an atomizer with naloxone, a powerful drug to reverse the effects of a heroin overdose, during a training session with the Bolingbrook Police Department on Jan. 7, 2015. (Photo courtesy of the Will County Executive's Office)