Slow and steady goes the housing market
The new home market is starting to rebound, and municipalities are in the driver's seat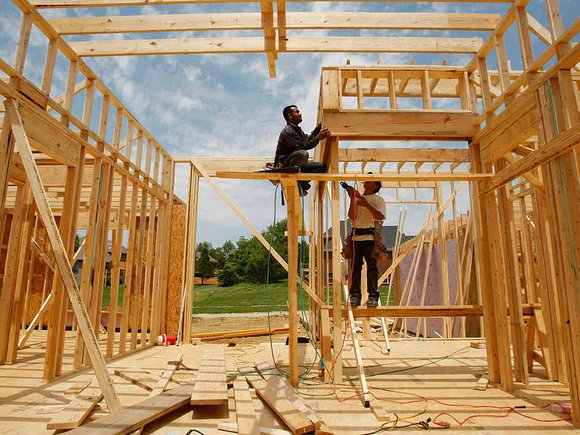 Slowly and steadily, the housing market is coming back to life and if the trends of the last year continue, 2015 is going to be a very good year for new home construction, local officials said.
And while it's unlikely this area will ever again see the explosion of subdivision development that was the norm before the 2008 recession, that's not necessarily a bad thing.
"This is more sustainable," said Michael Garrigan, Plainfield's village planner. "I think we're getting closer to what a normal equilibrium would be."
Plainfield had 152 new housing starts last year, up from 135 in 2013. About 200 to 300 would ideal in terms of new growth – manageable from the perspective of providing village services and adding new students to the school system and healthy for the tax base's bottom line, Garrigan said.
If there was any good to come out of the recession, it was that municipalities were forced to trim their budgets, weaning themselves from the annual influx of cash that came from building permit and impact fees, meaning they're now in a position of control when it comes to saying yes or no to proposed projects, Garrigan said.
A good example of that was seen at Monday night's Plainfield Village Board meeting, during which trustees told the developer of the Vista Pointe South subdivision that the 7,000-square-foot lots proposed wouldn't fly and they didn't want to see cookie-cutter designs with look-alike houses fronted by huge garages.
"We can be very particular as to what we will select," Trustee Jim Racich said. "I expect to see something that is really dynamic."
New Lenox Mayor Tim Baldermann agreed, saying they've been able to dictate certain things – such as mandatory brick facades on all new homes – because they didn't say yes to every project that was proposed during the boom years, or after.
He believes that's made his village more lucrative to higher-end developers, and explains why New Lenox was fifth highest in the Chicago market last year for new housing starts. There were 180 houses under construction in 2014, and it should exceed 200 this year, Baldermann said.
One key to their success, he said, is advertising. For months the village has been running ads trumping the advantages of living in New Lenox on Chicago radio stations such as WBBM-AM and WXRT-FM, and that's paid off.
"We have been very aggressive in marketing our community, and we've seen the same sort of success with our commercial development as well," Baldermann said.
Another factor is the village's decision to cut the impact fees in half for any house that's built in a development platted prior to 2008, he said. It's the reason they've gone from about 1,100 buildable lots five or six years ago to only about 200 today.
Getting houses into those already-built subdivisions is as important as attracting new ones, Baldermann said.
That's certainly been the case in Joliet, which has not seen any large residential developments proposed, but has been steadily filling in already existing neighborhoods that had dozens of unbuilt lots when the recession struck, City Manager Jim Hock said.