Starbucks could be coming to Shorewood's 'Anderson's Crossing'
Brock A. Stein | 1/15/2015, 9:25 a.m.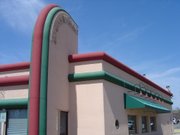 The site of the former Baba's restaurant at the corner of routes 59 and 52 will be redeveloped under a plan approved Tuesday night in Shorewood. Tenants for the site could include a Starbucks with outdoor seating, according to Mayor Rick Chapman.
"The only thing that I regret is that I only see two tables outside of Starbucks," Chapman said. "I like to drink my coffee outside in the morning."
A new one-story, multi-tenant building will be constructed on the corner site, which has been rechristened as Anderson's Crossroads Plaza. Trustee Dan Anderson and his family are the owners of the corner lot.

Baba's restaurant, a Shorewood landmark, occupied the site from 1972 until 2011, and it was razed soon after. The corner lot was originally the site of the Anderson Family Restaurant, which opened in 1936 and later became a service station. The corner has been known to longtime residents as "Anderson's Corner."
Trustee Steve Brockman, chairman of the Planning and Zoning Committee, said the site presented challenges to redevelopment, including traffic access at the busy intersection.
Brockman called it "a very difficult site to work with."
The original plan has been scaled back from a two-story building to a one-story multi-tenant use.
Existing buildings on the site will be updated under the plan, which will include a drive through and expanded parking in the rear of the lot.
Construction of the new building will be included in the first phase of the redevelopment. Other site improvements will include a new retaining wall and new signage.
"I think everybody is going to be very pleased when this is done," said Chapman, who noted the corner site's importance as a gateway to the village.

"This is a major project," he said. "You sit on the heart of the village," he told the Anderson family.
Anderson, who abstained from voting, said he was glad to see the project moving forward.
"There are a lot of obstacles we had to work through," he said. "It's taken a lot longer than we all thought."