Hollywood Casino Snocross at Route 66 Raceway
1/22/2015, 2:38 p.m.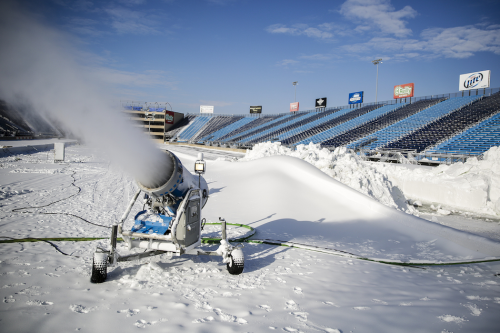 Route 66 Raceway has announced that Hollywood Casino Joliet will be the title sponsor of its inaugural Snocross event, Feb. 20-21. The Hollywood Casino Snocross will kick off the 2015 season at Route 66 Raceway providing Chicagoland area race fans with some heated, mid-winter motorsports action.
The first true Stadium of Drag Racing will transform into a snow-covered motocross-style race course for tricked out snowmobiles, capable of amazing 0-to-60 mph speeds and jumps that launch the sleds nearly the distance of an NBA basketball court. The high flying, berm-busting racing action will take place on tons of snow piled upon the famed drag strip.
"The Hollywood Casino Snocross National is truly a one-of-a-kind event in the state of Illinois," said Wayne Smith, Hollywood Casino Joliet General Manager. "We are looking forward to providing an entertaining experience for long-time Route 66 Raceway fans and Snocross loyalists, both at the track and at Hollywood Casino Joliet." There will be plenty for families to do in addition to the world-class racing, with autograph sessions, fireworks & opening ceremonies each day. Don't forget to visit the manufacturer midway, grab a hot chocolate in the warming tent, or let the kids try out a youth sized snowmobile in the Kid Zone.
Fans can also watch AMSOIL Championship Snocross' star racers, including the sport's defending champ, all-time winningest racer and multi-time ESPN Winter X Games Snocross champion Tucker Hibbert, from heated indoor seating options or the outdoor grandstands.
"Hollywood Casino Joliet is a longstanding partner of ours and has supported motorsports in this community for the better part of 15 years," said Scott Paddock, president of Route 66 Raceway. "They share our desire to bring unique and dynamic events to our world class facility, and their involvement will provide a great opportunity for fans to head out and play in the snow before heading over to play in the casino."
Tickets to the Hollywood Casino Snocross National are on sale now. Fans can purchase tickets several ways; online at www.Route66Raceway.comhttp://www.route66raceway.com, by calling 888-629-RACE, through the Route 66 Raceway mobile app, or by visiting the Route 66 Raceway Administrative office Monday-Friday 8:30am - 5:00pm. The 2015 of events at Route 66 Raceway is as follows:
Date Event
February 20-21 Hollywood Casino Joliet Snocross National
July 9 - 12 Route 66 NHRA Nationals.