Column: County's dental director talks about teeth and health
1/26/2015, 10:32 a.m.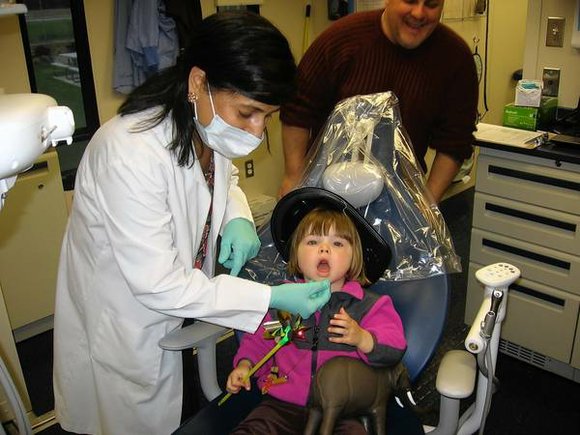 This guest column was provided by the Will County Health Department:
Will County Dental Director Sangita Garg knows how much good dental health means to her Will County Community Health Center patients. She enjoys reminiscing about services provided by the dental clinic, 1106 Neal Ave. in Joliet.
"One cold winter morning, a middle-aged couple walked into the clinic for a regularly scheduled dental appointment. As I entered the dental operatory, I saw tears in the wife's eyes and could clearly see the pain and anxiety on her face.
"When she opened her mouth for examination, I saw numerous broken and unrestorable teeth. She needed multiple extractions. Fortunately, a talented and caring staff made the patient feel comfortable. She elected to utilize our expertise to carefully extract the teeth that couldn't be saved."
Dental health has been a Will County public health focus for decades. Thousands of Will County residents have enjoyed healthier lives thanks to agency dental health professionals who provide services at the Health Center, or in the county's state-of-the-art mobile dental facility.
"The average adult between the ages of 20 and 64 has three or more decayed, or missing teeth," Garg continued. "Research shows that infections in the mouth may be associated with many serious health problems, including: heart disease, stroke, diabetes and pneumonia."
The addition of a dental hygienist is an added benefit for clinic patients. The hygienist plays a critical role in the treatment of diseases common to the teeth and gums. Clinical staff work with state-of-the-art equipment, including digital x-rays, plus electronic dental and medical records.
Of course, Dr. Garg is equally focused on children's dental health.
"Tooth decay is totally preventable, so it's important to schedule a child's first dental visit by age 1. Teaching your child proper oral care at an early age is a major investment in his or her health. You can start by setting an example; taking good care of your own teeth sends a message that oral health is something to be valued."
The Community Health Center plans a variety of activities in recognition of Dental Health Month. The dental staff will be visiting Will County schools to provide timely presentations and education. Other activities include: special dental education videos for use in patient waiting areas, a dental page coloring contest for children from 5-10 years of age, and free dental screenings at the Community Health Center. The county's 40-foot mobile dental coach will be visiting nearby schools, daycare centers, and homeless shelters.
For more information about services provided by the Will County Community Health Center, telephone 815-727-8670.