Joliet council meeting on Rialto marquee cancelled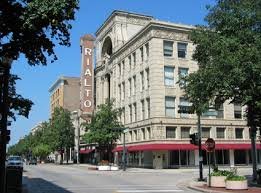 The Joliet City Council had cancelled the Wednesday's meeting special meeting to discuss the Rialto Square Theatre marquee donation.
The meeting would be "redundant" given that the Rialto oversight board, the Will County Metropolitan Exposition And Auditorium Authority, has already issued a statement about its decision and plans to hold its own meeting at 4 p.m. Wednesday, City Manager Jim Hock wrote in the announcement of the meeting cancellation.
"The mayor and council are concerned about the Rialto Square Theatre marquee replacement," Hock said. "Since the Rialto has responded to the new donor that the Rialto Board is concerned about public input regarding any new marquee and scheduled a Rialto board meeting the same day at 4 p.m., the city council meeting would be redundant."
Donor Jay Bergman offered to pay for the $350,000 marquee, but only if the Rialto board would strike the name of the donor from the sign and proceed with the current design.
Rialto officials turned down the offer because it wants a public committee to review the sign design and offer its recommendations. The work on the new sign has been put on hold since the original donor, Ed Czerkies, decided to withdraw his donation in light of public criticism of the sign's look and the inclusion of a memorial honoring his late parents.
A group of residents opposed to the sign's appearance have started a fundraising campaign to raise the money needed to pay for a new marquee.
Contact Karen Sorensen at Karen@TheTimesWeekly.com.