JJC names nursing department lab for Jeanette Wirt
1/27/2015, 3:11 p.m.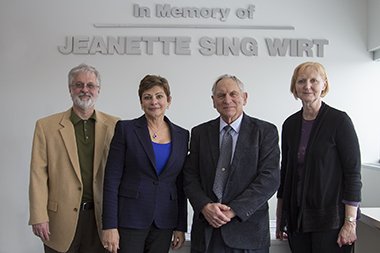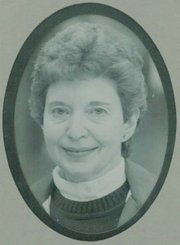 Joliet Junior College welcomed Leon Wirt to campus to celebrate the Nursing and Allied Health Department's newly dedicated nursing lab in honor of his late wife, Jeanette Wirt, on Wednesday, Jan. 14.
Due to the excellent nursing care Mrs. Wirt experienced throughout her life, she wanted to make a difference in the lives of student nurses. She chose to give JJC an endowment of $268,000, which will be used for scholarships beginning this year. JJC will grant a total of $11,000 for this scholarship to as many as 11 recipients per year.
During the open house officially identifying U-3004 as "The Jeanette Sing Wirt Nursing Skills Practice Room," Mr. Wirt met with current JJC nursing students, faculty, and other employees, and was also given a tour of The Health Professions Center, JJC's newest facility. Built in 2013, the new 124,000 square foot building allows student nurses to have more space for learning simulations in classrooms like the one recently named for Jeanette.
"I am so impressed with this facility and I am taking so much pride in Jeanette's decision to donate to JJC's nursing department," Mr. Wirt said. With a smile, he added that if Jeanette were there, she'd act very modestly, but she'd also be excited to meet the future nursing students who could benefit from her donation.
This is the biggest endowment the Nursing and Allied Health Department has ever received.
Mrs. Wirt's donation comes from the inheritance of her parents, Henry and Leora Sing's farmland, which stretched from Essington Road to Black Road in Joliet. The land, which originally belonged to Wirt's grandparents in 1904, was sold in pieces, with the last portion sold in 2014.
Jeanette and Leon Wirt were married in November 1958, just months after meeting for the first time and falling in love. Leon said Jeanette loved to play the piano, but she also played the organ for her church. The family tragically lost their sons in a car accident in 1969, which caused Jeanette to be diagnosed with epilepsy. After Jeanette was diagnosed with breast cancer in the 2000s, she knew she wanted to do something that would help future nurses. She passed away in 2008.
"She was all heart. She came home one day and she knew she was due to inherit a third of the farm. And she said, 'You know what, I want my third to go toward the nursing program.' I thought it was a noble thing to do," Mr. Wirt said.
For more information about JJC's Nursing and Allied Health program, visit http://www.jjc.edu/academics/divisions/nursing-allied-health/nursing/Pages/default.aspx or call Magruder at 815-280-2438.
To learn about the donation process at JJC, visithttp://www.jjc.edu/about/foundation/pages/default.aspx or call 815-280-2353.