2015 Honda CR-V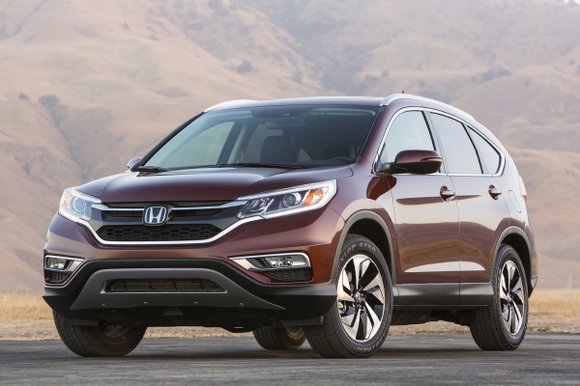 Honda called it a major minor model change. The automaker increased the fuel economy and added another trim line to the 2015 Honda CR-V. But they also improved their best-selling entry level crossover vehicle in 60 other areas.
For 2015, the Honda CR-V has a new grille, new headlights, new front bumper, new skid plate and a tweaked front suspension. The rear end had a new fascia, new license housing and new rear bumper. It looked wider from the rear and now the crossover can be equipped with 18-inch wheels, in addition to its normal 17-inch rubber.
LED running lights are also available, a power tailgate is now offered and there is an available smart key.
The interior has gone high tech too. It had dual information screens. The center console was configurable and it could hold an iPad, large soft drink cups from fast food outlets and it had easily reachable USB ports. The dash had a clean saddle bag look to it as each soft touch layer flowed down to a thin wood-like trim that spanned across its width.
The interior had a high quality look but Honda would do well to upgrade the polymer used in the frames that hold the CR-V's climate vents. They didn't match the quality of materials used in the rest of the interior.
Although horsepower stayed the same at 185 on the 2.4-liter aluminum alloy four cylinder engine, torque has been increased by 11 percent to 181 pound-feet. To improve fuel economy, Honda switched the CR-V from a five-speed automatic transmission to a continuously variable transmission or CVT.
The fuel consumption rating for the 2015 Honda CR-V, which went on sale in October, is 27 mpg in the city, 34 mpg on the highway and 29 mpg combined for the front-wheel-drive model and 26 mpg in the city, 33 mpg on the highway and 28 mpg combined for the all-wheel-drive version.
We thought the new 2.4-liter engine ran smoothly and power was decent. Although we've never been a fan of a CVT, this generation of pulley-type transmission was pretty quiet at low speeds. Still, though CVTs save fuel we question how effective they are at transmuting engine torque to power on the pavement.
Another idiosyncrasy of CVTs is that under hard acceleration they drone on with seemingly no break in the sound because they don't shift gears. Under our heavy foot, the Honda 2015 CR-V seemed not to be moving as fast as it sounded. But a check of the speedometer and yes, we were moving swiftly.
Our test vehicle had all-wheel-drive. The system was really front-wheel-drive on dry pavement but it was capable of sending 20 percent of the engine's torque to the rear wheels once any slip of the front wheels was detected.
The 2015 CR-V's steering could have been a little tighter but the vehicle still responded to driver input quickly. When test driving so many different vehicles, it is not a bad idea to keep in mind who is the target buyer. For the 2015 Honda CR-V, it is a 32-year-old mother of two. In other words, the CR-V is not supposed to handle like a sports car or a performance sedan.