Wine of the Week Alto Adige Valle Isarco Kerner ($19)
VARNA, Italy--Along the steep slopes of the Italian Alps, about 2000 feet above sea level grows the Kerner grape, a modern German cross that produces beautiful white wines. It's named after Justinius Kerner, a physician and writer of drinking songs who reputedly recommended that his patients "drink a glass of wine as the best natural medicine." Invented in 1929, the grape produces a lovely Riesling-like wine.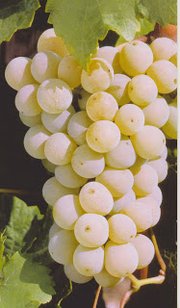 Golden in color with a crisp, clean citrus flavor that brings to mind Golden Delicious apples, Meyer lemon, ripened grapefruit and a hint of apricot and apricot. There's also a slight backnote of asparagus and thyme. For a white wine, it is surprisingly complex, with an opulence that makes it perfect with food. Sushi is the best possible pairing, with the kind of acidity that marries well with the oil inherent in salmon or my favorite, grilled freshwater eel (unagi). The acidity also cuts through the condiments of salty soy sauce, pickled ginger and wasabi (green Japanese horseradish).