Lincoln Station apartment plan returns for NL review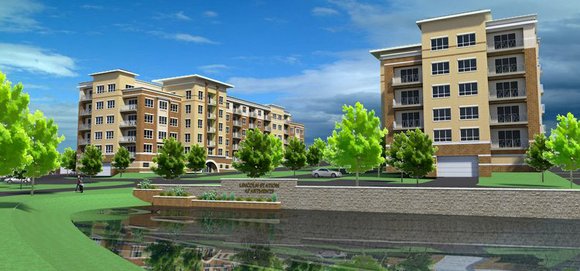 The New Lenox Village Board will vote later this month on a proposed upscale apartment complex near the Metra train station.
PPK Architects has been designing the proposed Lincoln Station Apartments complex, which would consist of four six-story buildings with 312 luxury apartments on about 16 acres at U.S. 30 and Prairie Street.
Developers said the proposed $60 million project would be built in a campus-like setting and include such amenities as a clubhouse with a fitness center, outdoor pool, covered patio, locker rooms, a party room, theater-screening room and a coffee station.
The grounds would have a walking/jogging path, a playground and sidewalk paths to U.S. 30 to walk to nearby stores.
Because the complex would be adjacent to the Metra station, it is being billed as a transit-oriented development geared for young professionals who work in Chicago, according to a presentation by the developers. It is also aimed for doctors or nurses at the nearby Silver Cross Hospital or empty-nesters who want maintenance-free living while living close to family or friends.
About 70 percent of the apartment units would have one bedroom with 30 percent containing two bedrooms. According to the developers, rent would be about $1,700 per month, and the apartment units would feature granite counters, stainless steel appliances, hardwood floors and nine-foot ceilings.
PPK Architects was working with the village last year on the Lincoln Station Apartments plan, but pulled the project in January after the village board cited concerns about traffic, parking and the building materials.
The architects presented the latest plan on Wednesday and residents had a chance to ask questions about the proposal. More than 75 residents attended a special village board meeting Wednesday night.
Many residents said the project looks good on paper, but were concerned that the high-density apartments would bring too much traffic to an already busy corridor.
"I really care about revitalizing the downtown, but if we make so much traffic that people don't want to come, have we really accomplished anything?" resident Lori Lindberg said. "I think in that location we are trying to put a size 10 foot in a size eight shoe."
Other residents said they didn't feel that the area could support a $1,700 monthly rent and were concerned that either the rent prices would plummet, the buildings would be half-empty or the construction would never be completed.
Residents asked if there was a possibility that the complex would become subsidized housing to which the developers responded that it will not be subsidized housing.
Other residents said that if the project is approved, they want local laborers used to build the homes.
The village board will vote on the project on July 27, Mayor Tim Baldermann said.
If approved, the Lincoln Station Apartments would add $950,000 to the tax rolls yearly, and construction would likely begin next spring.