Grilled Spinach and Mushroom Pizza
7/13/2015, 3:22 p.m.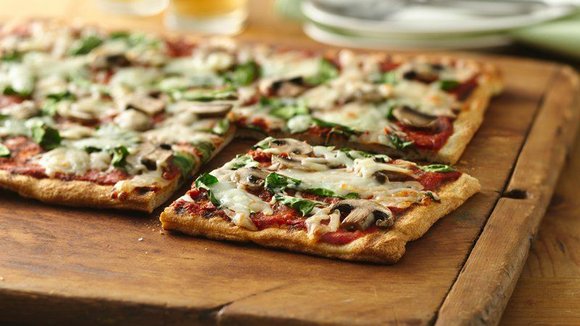 SERVINGS: 6
Ingredients
1 can (13.8 oz) Pillsbury™ refrigerated classic pizza crust
Cooking spray
½ cup pizza sauce
2 cups torn fresh baby spinach leaves
1 cup sliced fresh mushrooms
¾ cup reduced-fat shredded mozzarella cheese (3 oz)
Directions
Heat gas or charcoal grill. Cut 18x12-inch sheet of heavy-duty foil; place on large cookie sheet. Spray foil with cooking spray. Unroll dough onto sprayed foil. Starting at center, press out dough into 14x10-inch rectangle. Spray dough with cooking spray.
Invert dough rectangle directly onto grill rack; peel off foil and return foil to cookie sheet, sprayed side up. Cook uncovered on gas grill over medium-low heat or on charcoal grill 4 to 6 inches from medium-low coals 2 to 4 minutes or until bottom is golden brown. (Watch carefully to prevent burning.) With wide metal pancake turner, turn crust over. Cook 1 to 2 minutes longer or until bottom is set but not brown. Carefully remove from grill; place browned side up on foil. Close grill.
Top crust evenly with pizza sauce, spinach and mushrooms. Sprinkle with cheese. Slide pizza from foil onto grill. Cover grill; cook 3 to 6 minutes longer or until crust is golden brown and cheese is melted.