Slammers give up third game to Otters
7/20/2015, 1:33 p.m.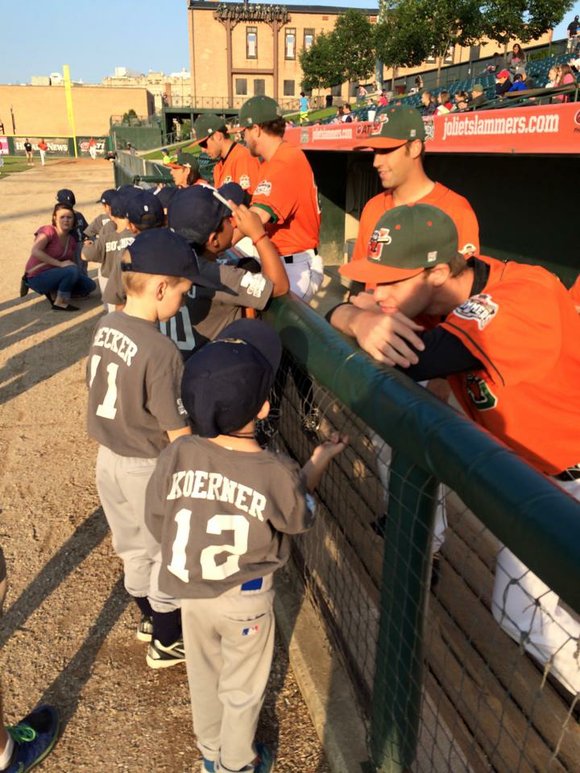 The Joliet Slammers provided this account of Sunday's game:
After scoring early, the Joliet Slammers (22-32) couldn't hold onto a three-run lead as they fall to the Evansville Otters (36-18) 6-4 on Sunday night.
The Slammers raced out to an early advantage against Tyler Vail in the first inning. CF Charlie White led off with a walk and stole second. LF Phil Bates moved him to third with a single. SS Alfredo Rodriguez brought White home with a sacrifice fly to right field. 1B Carlos Lopez walked. 3B Mike Garza singled to drive in Bates, putting Joliet up 2-0. DH Hunter Ridge knocked in Lopez, who moved to third on the Garza single, giving the Slammers a 3-0 lead after the first.
The Otters responded quickly against lefty Hunter Ackerman. LF John Schultz led off with a walk. 2B Josh Allen crushed a two-run homer over the left field fence, making it a 3-2 Slammers lead. Ackerman got the next two batters out to escape the inning.
The Otters added to their lead in the second. Schultz corked a double to drive in JD Dorgan, running Ackerman from the game. With a pair on and two outs, reliever Adam Giacalone got 2B Josh Allen to strike out, getting the Slammers out of the inning.
The Otters scored once more in the third. 3B Shayne Houck led off with a single. RF Dane Phillips moved him to second with a base-knock of his own. A fly ball by CF Chris Sweeney got Houck to third. 1B Nik Balog drove in Houck with a sacrifice fly, giving the Otters the 4-3.
After the Slammers bullpen shut down the Otters for three innings, Evansville scored a pair of runs in the seventh frame against Kevin McNorton. SS Cory Urquhart and Allen singled before Houck drove them in with a double up the left field line. It was 6-3 Otters after the seventh inning.
The Slammers bats went quiet against Vail after the first inning. The pushed one more run across in the ninth frame against reliever Connor Little. Nate Roberts was plunked to lead off the inning. After White struck out, Bates moved Roberts to second. Rodriguez singled to drive in Bates, bringing up Lopez, who represented the tying run. After working a long at bat, Lopez struck out on full-count pitch for the final out, capping the Slammers 6-4 defeat to the Otters.
Hunter Ackerman gave up three earned runs in 1 2/3 innings on three hits and two walks. He struck out one. Adam Giacalone allowed a run on two hits in 2 1/3 innings. He struck out two. Kevin McNorton gave up a pair of runs in three innings pitched while Navery Moore tossed a scoreless eighth.
The Slammers take on the Chicago Bandits softball team in an exhibition game on Monday. Visit http://www.jolietslammers.com/ for tickets.