District 202 full-time kindergarten students to by chosen by lottery
7/21/2015, 9:19 a.m.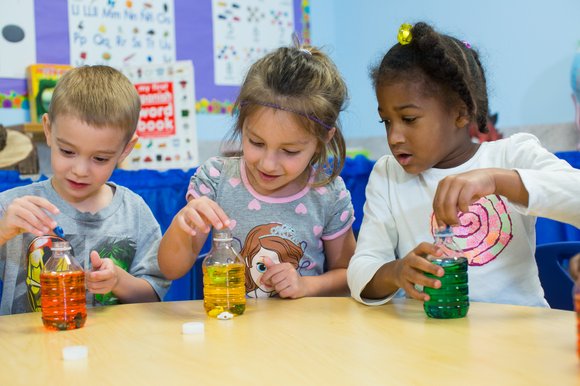 District 202 provided this news release from Monday night's school board meeting:
District 202 will implement full-day kindergarten for the 2016-17 school year -- but for only about 410 students chosen by lottery, whose families will pay about $100 a month for the opportunity.
Incoming kindergarten families will receive more details about the lottery and registration process in January 2016.
The Board of Education approved the plan at its July 20, 2015 regular meeting.
The plan is not ideal, said Mina Griffith, assistant superintendent for student services who has been a part of the full-day kindergarten project since work started on the initiative two years ago.
However, Griffith said, "We can't afford not to implement" full-day kindergarten as soon as possible.
District 202 students will need to learn and master a more rigorous curriculum tied to the Common Core state learning standards, and full-day kindergarten will be a key part of that effort, she said.
District staff will evaluate the plan with an eye on adding classrooms in 2017-18. As well, the district could consider a referendum down the road to build new classes or schools if needed.
Two thousands Illinois schools -- including those in several surrounding districts - already offer full-day kindergarten. District 202's 17 elementary schools are among only 330 in the state that offer only half-day kindergarten.
Current state law does not require school districts to offer full-day kindergarten. However, the law requires all districts that offer full-day kindergarten to also offer half-day kindergarten.
Full-day kindergarten was one of several major priorities identified for District 202 in 2011 as part of the Five Year Strategic Plan.
Griffith, along with Director of Elementary Administration Mark Heiss and Director of Elementary Curriculum and Instruction Joan Woolwine have led a committee comprising staff, teachers and parents through the work to create the plan the Board has not approved.
The committee's long-term recommendation is to provide full-day kindergarten at each elementary for all families that want it.
However, two major hurdles prevented District 202 from creating a full-day kindergarten program sooner, and still will keep the district from offering it to all families immediately: a lack of classroom space and the cost of hiring more teachers.
District 202 would need 72 classrooms - or about four per elementary building -- to serve all of its current kindergarten-aged students. District 202 does not have that many classrooms available.
However, enrollment has dropped enough from its peak in 2008 that the district can now designate at least 17 classrooms for full-day kindergarten programming - or one per elementary school.
Still, not all elementary schools will house a designated full-day kindergarten class. The actual classroom assignments will be made later.
Up to 24 students per class will be chosen by lottery. Twenty-four is the maximum before the district would have to hire an extra teacher aide. Families will pay about $100 per month, which will offset the extra personnel and material costs for the program, keeping it cost-neutral.
One hundred dollars a month is less than the $250 a month that families pay now at Bonnie McBeth and less than what most families pay for children who attend half-day kindergarten and need daycare for half the day, Griffith said.