Jazz in Kankakee with the Freddie Franken Group
7/22/2015, 4:51 p.m.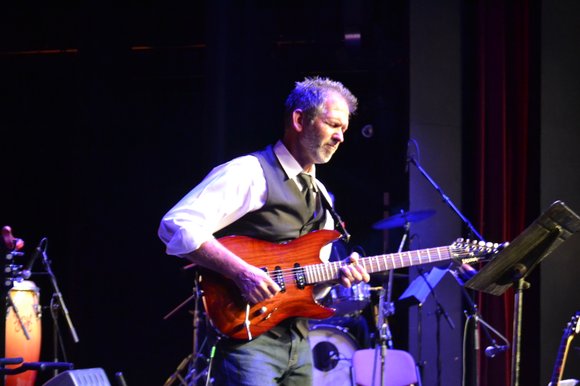 There is no doubt that Kankakee needs more jazz and on Friday August 7th Feed Arts and Cultural Center is bringing the avant garde to downtown with an evening of jazz music provided by the Freddie Franken Group.
Freddie Franken was born and raised in Aruba, where he acquired an early love of hot weather, ripe mangos, and Gibson archtops. His early interest in guitar was nurtured by the island's rich musical and cultural traditions, specifically Brazilian, Latin, Afro-Cuban, and native Caribbean music. He began a full-time professional music career began when he was 17, playing with dance bands, club orchestras, and Salsa bands at hotel clubs. In 2014, he had the pleasure of returning home to perform as a headlining artist at the Aruban Guitar Legacy Concert.
Currently, Freddie resides in the Chicago metro area as a freelance guitarist. His ongoing work includes studio recording, pit orchestras, and live stage performances. He leads his own band, Eastbound, a smooth jazz group with a cutting-edge sound, and often performs with the eclectic French-American group Paris La Nuit. He recently recorded on the album "Colors" by Urosoule, which (he's pleased to say) received favorable reviews on thesmoothjazzride.com.
Freddie studied classical guitar at the University of Rhode Island, earned a B.A. from Governors State University, and graduated from the prestigious Berklee College of Music in Boston.
In between gigs, Freddie is an active clinician and master classes instructor. He teaches in his private studio and is a full-time adjunct professor at Olivet Nazarene University. He frequently serves as an instructor and advisor to regional high school music educators in regards developing and teaching guitar programs in local schools.
The Freddie Franken Group will preform at Feed on Friday, August 7th t 7:00 pm. Ticket will be available at the door for $8.00. http://feedarts.us8.list-manage.com/track/click?