Lockport seeking art donations for empty state museum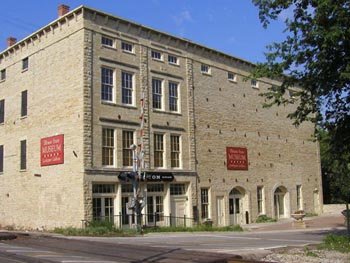 Lockport Mayor Steve Streit had just started hearing rumblings that state budget cuts could impact the Illinois State Museum's Lockport Gallery when he learned that it had been emptied.
"They cleared it out basically overnight," Streit said.
Calls he made to State of Illinois officials who oversee government museums weren't returned, he said. He found out later they were busy returning artwork.
Streit has been working to bring economic re-development to Lockport's downtown district in his first two years as mayor and saw the museum as an asset that could be used to attract people to the city.
Having an empty museum doesn't help him as he oversees the second installment of the Lockport Summer Art Series. The 201 W. 10th St. museum was also a stop for one of the Super Heroes of Innovation collector cards in their citywide scavenger hunt.
"It's an asset and I just started promoting," he said, adding, "Now you guys are going to take it away?"
The museum has an annual operating budget of around $190,000 which covers the salaries of two employees and rent for the building, Streit said. The cost is a small sum compared to economic activity it brings in his town and back in to state coffers, he said.
"I don't want this gallery sitting empty," said Streit, who believes the artwork that was removed belongs to the people of Illinois.
"And then the idea that they're going to just stick it in mothballs seems massively irresponsible," he said.
Had the city been given advance notice, a mutually beneficial solution could have been reached to keep the works in the museum at least until the end of the summer, Streit said.
"I understand you can't have a budget with a $4 billion hole in it," he said. "All I'm asking is instead of taking a bulldozer to the system that we have a conversation about it."
Faced with an empty museum during a summer series that promotes art, Streit and museum curator John Lustig are asking for donations of original artwork to fill the building until the budget impasse is resolved.
"Let's make a statement that these things are the assets of the citizens of Illinois," Streit said.
Starting Sunday, residents can bring artwork to be displayed at the Illinois State Museum Lockport Gallery during business hours from noon to 5 p.m. Sunday and 9 a.m. to 5 p.m. Monday through Saturday.
Contact Brock A. Stein at Brock@TheTimesWeekly.com.