Ross Dress for Less planning second Joliet store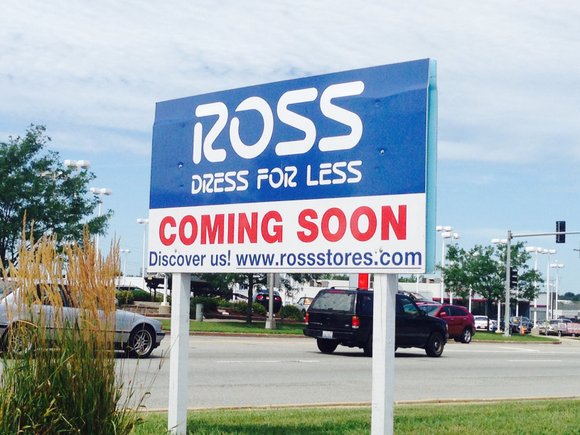 A new Ross Dress for Less store is weeks away from opening in Joliet, and now plans are in the works for a second store in a Joliet strip mall that's home to many other discount retailers.
The company has announced plans to build its second Joliet store in North Ridge Plaza, 1480 N. Larkin Ave., joining Burlington Coat Factory, Marshalls and Tuesday Morning, all of which specialize in offering brand name merchandise at reduced prices.
No opening date has been set for Ross' first store, located in the former OfficeMax site at 2805 W. Plainfield Road, but they are in the process of hiring retail clerks and managers, which is the last step before doors open.
Ross has embraced the Illinois market, and Will County in general. The California-based chain has opened 50 stores in the state in the last two years or so, the vast majority of which are in the suburban Chicago area.
The most recent opening was July 18, when its Plainfield location at 12700 S. Route 59 completed setting up shop in a shuttered Barnes & Noble store. In the last year, the chain has also opened sites at 475 E. Lincoln Highway in New Lenox and 257 N. Weber Road in Bolingbrook.
Company officials with the California-based Ross did not respond to questions about when the second store might be opening, why they were choosing to build two stores in Joliet or if they planned to build new or to fill a North Ridge vacancy.
City officials also did not return calls about whether the company had obtained building permits for the site.
For Joliet, the two stores represent the newest additions to a rebounding retail scene in which vacant locations have found new users -- such as Sports Authority and Fresh Thyme Farmers Market going in to a empty Kmart -- and other companies, such as Dick's Sporting Goods and DSW Shoes, have opted to build new.
New retail operations bolster the property tax paid not only to the city, but to other taxing bodies, including Will County and local school districts. The greater the amount of tax paid by commercial development, the less that needs to come from homeowners.
People are also spending more, according to local officials, which has seen an uptick in the amount of sales tax coming from purchases being made at Will County stores.
If there is a negative, it's that most retail outlets don't pay much beyond minimum wage for the bulk of its clerk and stocking staff. City officials have been frustrated that they have had success in bringing in new restaurants and stores, but have struggled to lure in businesses that provide full-time salaries that fully support expenses of the people who earn them.
Earlier this month, the Will County Center for Economic Development launched a new campaign in which they hope to add 300 new businesses and create 30,000 new jobs by 2020, with an emphasis on good-paying jobs. Officials there were not available for comment.
Contact Karen Sorensen at Karen@TheTimesWeekly.com.