Construction on WoodSpring Suites in Romeo under way
6/2/2015, 5:55 p.m.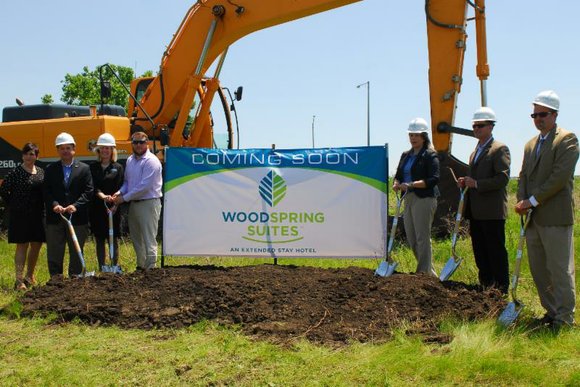 The village of Romeoville provided this news release:
WoodSpring Suites, formerly Value Place, the nation's fastest-growing extended-stay hotel brand has partnered with Holladay Properties to build the first WoodSpring Suites hotel in Romeoville, Illinois. The property, which will be located at 1093 Windham Parkway, broke ground on Tuesday, June 2nd.
"Holladay Properties selected Romeoville as its first location of fifteen planned WoodSpring Suites in the greater Chicagoland area due to its strong business market and outstanding civic leadership," said Tim Healy, Senior Vice President of Holladay Properties. "Mayor Noak, the Village Board, and the entire planning department embraced our project and made us feel comfortable about investing in their community."
The hotel is projected to open in April 2016 and will be located an hour west of Chicago. Once completed, the new four-story, 116-room hotel will feature such guest amenities as in-room kitchens, free high-speed internet, and guest laundry facilities, and the 99-point cleaning process that the WoodSpring Suites brand provides to every guest.
"We see tremendous opportunities to grow our brand in major metropolitan markets across the country such as Chicago, particlualry with our new branding and consumer positioning," said Bruce Haase, Chief Executive Officer at WoodSpring Suites. "We are excited about the progress we have made in growing nationally and are experiencing even greater momentum with the recent launch of our new brand."
"This hotel will be a big asset to a robust market and provide a great extended stay experience for both business and leisure travelers," said Kyle Rogg, Chief Operating Officer at WoodSpring Suites. "We're excited for guests in Romeoville to find out what WoodSpring Suites hotels are all about."