Governor kills budget funding for Illiana Expressway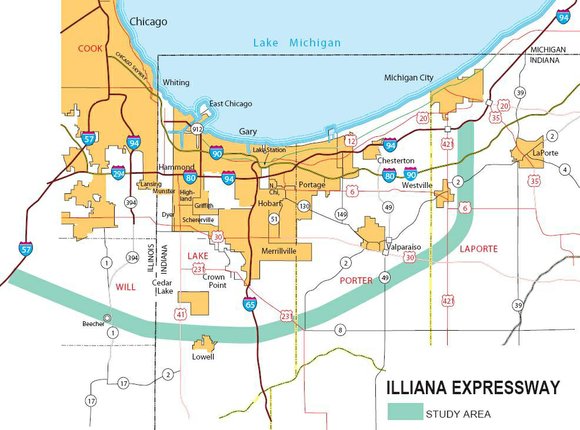 The Illiana Expressway, which would have linked Interstate 55 in Will County to Interstate 65 in Indiana, has reached at a dead end, the governor's office said Tuesday.
Eliminating funding for the joint Illinois-Indiana project was one of a long list of budget cuts announced by Gov. Bruce Rauner, who is chopping away at a $4 billion deficit in the state's proposed 2015-16 budget in an effort to have a balanced spending plan in place when the fiscal year starts July 1.
The announcement was terse and the change "effective immediately":
"In light of the state's current fiscal crisis and a lack of sufficient capital resources, the Illiana Expressway will not move forward at this time," the statement said.
"As a result, the Illinois Department of Transportation will remove the project from its current multi-year plan. It is the determination of IDOT that the project costs exceed currently available resources. The department will begin the process of suspending all existing project contracts and procurements."
The announcement was not a huge surprise given that Rauner has said in the past that the 50-mile Illiana was an example of the kind of "wasteful" spending he wanted to end in Illinois.
However, Will County officials were big backers of the project, which would have routed some truck traffic off of interstates 55 and 80. With three intermodal facilities located on Route 53 in Joliet, Elwood and Wilmington, the new roadway could have taken truck traffic away from the area and bypassed the roads that bottleneck around the Chicago area, officials said.
Rauner said he blamed the need for cuts on House Speaker Mike Madigan, Senate President John Cullerton and their caucuses, which persuaded the House and Senate to approve the deficit budget.
"Speaker Madigan, President Cullerton and the politicians they control refuse to act responsibly and reform state government," Rauner Spokesman Lance Trover said. "It is time they come to the table with Governor Rauner to turnaround Illinois."
Despite Rauner's criticism of the Illiana, the project won the approval of the Federal Highway Administration in December. The agency's "Record of Decision" determined there was a "transportation need for the project."
Contact Karen Sorensen at Karen@TheTimesWeekly.com.