Plainfield Central athletic director wins Niehus Award
6/9/2015, 8:36 a.m.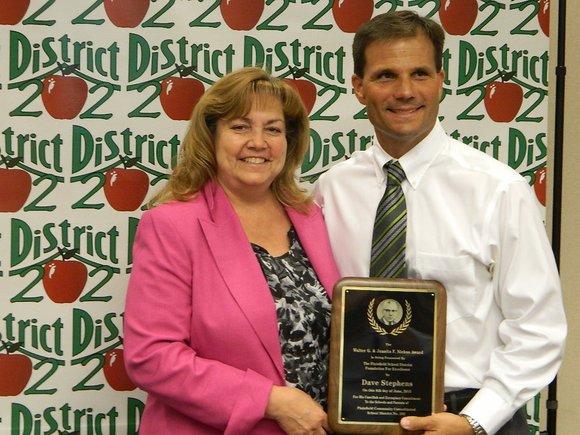 District 202 provided this news release:
Plainfield High School - Central Campus Athletic Director Dave Stephens is the recipient of the 2015 Walter G. and Juanita F. Niehus Award.
Stephens received the prestigious award at the District 202 Board of Education's June 8 meeting.
The Niehus Award was established in 1986 to honor the legacies of former District 202 Superintendent of Schools Walter Niehus and his wife, respected former teacher Juanita Niehus.
It is given each year to either certified personnel or non-certified staff and support staff members, nominated by their peers, who show extraordinary commitment to district students, parents and employees.
Stephens is the 30th annual recipient of the Niehus Award. The Plainfield Foundation for Excellence administers the Niehus award for the Niehus family.
"Dave Stephens has been an extraordinary teacher, administrator and ambassador for District 202 his entire career, and he certainly deserves this recognition. We are proud to honor him on behalf of the Niehus family," said Foundation Chairperson Margie Bonuchi.
Stephens has worked his entire career in District 202. He started in 1987 and taught 5th grade at Central Elementary for nine years while also coaching football and basketball at (then) Plainfield High School.
He then taught 5th grade for five more years at Walker's Grove Elementary School before moving to Timber Ridge Middle School for two years, and Heritage Grove Middle School for three years. He has worked at PHSCC the last nine years.
PHSCC Physical Education department chair Lisa Klaas nominated Stephens for the award because, as she said, he represents everything good about Plainfield High School.
"Dave does so much more than his job title says," Klaas wrote. "He is the positive force behind all things 'Wildcat'. Every student in the building knows Mr. Stephens and they love and respect him."
She cited Stephens' involvement in The Green Machine fan club, all athletics, the Mr. PomCat competition, being in charge of building and grounds operations for the school and working with custodial and maintenance to ensure PHSCC is well maintained, among other activities and responsibilities.
"Every staff member knows Mr. Stephens too and they love him. He is a great leader because he is a great communicator. It has been an honor and a pleasure to work with Dave," said Klaas, who is retiring this month.
Stephens said he is proud to be getting the Niehus Award, but deflected praise about himself.
"Awards are for teams, and it has been my honor to be on a great team, working for District 202 for the last 28 years," Stephens said.