Lockport's Hollingworth Candies planning biz expansion
Brock A. Stein | 6/18/2015, 1:14 p.m.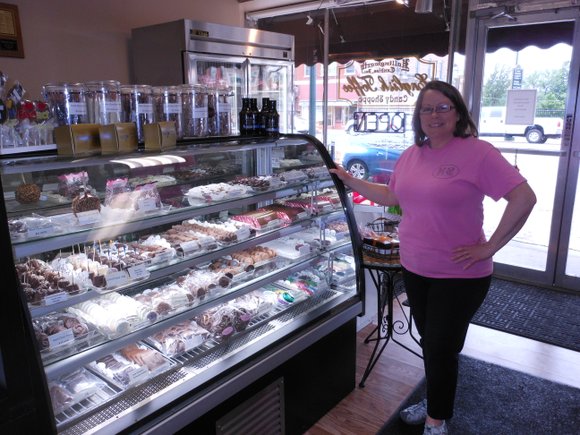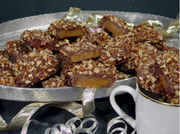 When her mother started her own candy making business over 30 years ago, Wendy Carver probably didn't imagine that it would set her on her own sweet career path.
Carver's mother, Margaret Carlson, left her job as a registered nurse 33 years ago to help her husband book sales calls for his insurance business. She started making English toffee with her neighbor in their home kitchen as a way to bring in more income.
"She just wanted to make a little extra money," said Carver, who started working with her mother several years ago and today serves as president of Hollingworth Candies, 922 S. State St., Lockport.
After 16 years at that location, an expansion is in the works as they look for a larger site where they can produce more of their wares, she said.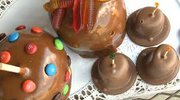 The family started selling homemade batches of milk chocolate covered pecan toffee at craft shows and later through mail order. Eventually the operation moved in to their current storefront, where Hollingworth Candies has been a downtown Lockport fixture.
Over the years, the company has expanded its offerings to include sea salt caramels, caramel apples and all manner of chocolate covered goodies, from strawberries to graham crackers to Oreos. Their chocolate-dipped marshmallows are called "Lincoln Hats" after the 16th President.

But toffee "is still our specialty," she said.
Hollingworth Candies -- the name comes from Carver's English great-great grandfather -- was recently accepted to be part of a small business accelerator program offered by Accion, a nonprofit group that helps business owners with everything from loans to business training.

The company was one of just five in the Chicago area to be selected for the inaugural Accion Fast Track program, which started with a two-day business seminar in June and will include 20 business coaching sessions over the next 10 months.
That support will help the company as it plans its expansion. Carver said the candy-making part of her company has outgrown its 1,200-square-foot store. They want to find a 3,000-square-foot building in Lockport in which they can relocate the candy production, shipping and warehousing part of the business and expand their retail footprint, she said.
The company employs eight part-time employees during the first three quarters of the year and adds 10 more seasonal employees during the fourth quarter to handle their holiday sales, when they make about 70 percent of their income.
Accion has provided business loans over the last two years before moving them to the Fast Track program.

Carver said the non-profit takes the time to get to know the businesses they work with and saw potential in the candy maker's plans for expansion. The agency provides loans of up to $100,000 to businesses in Illinois and Northwest Indiana with the potential to help the local economic development, according to its web site, www.accion.org.
"They were confident in what we were doing," Carver said of her business' selection for the mentorship program.
The agency has paired them with coaches from Peoplebiz, a Texas-based business consultant, who will counsel them on everything from expansion and operation plans to marketing and Internet sales.
So far, one of the biggest lessons she is learning is how to take a step back from the company's day-to-day operations in order to focus on big-picture goals, Carver said.
"So that I can oversee the general operations to grow the business," she said.
Despite expansion plans on the horizon and all of the work that will entail, Carver said that having a job making candy is never drudgery.
"Our customers come to the store, they smell the chocolate, and they're happy," she said.
"You can't beat that kind of work environment."
Contact Brock A. Stein at Brocknewstips@gmail.com or on Twitter at @BrockAStein.