Laptops, TV, cash stolen in rash of NL car burglaries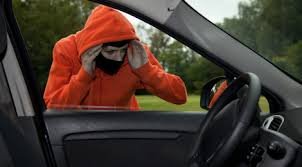 New Lenox residents lost laptop computers, money, sunglasses and other items to burglars who got into their vehicles through unlocked doors, according to New Lenox police reports.
The rash of break-ins took place between June 15 and 21, and five of the six burglaries were in the area of Joliet Highway and Spencer Road, reports show.
The incidents took place at:
1500 block of Pine Grove Lane -- A laptop computer and cash were reported stolen at 3:20 p.m. June 15.
800 block of South Anderson Road -- Change was reported stolen at 3:25 p.m. June 18.
1300 block of O'Connell Street -- Sunglasses were reported stolen at 7:46 a.m. June 18.
1400 block of Terrence Drive -- Change was reported stolen at 8:49 a.m. June 19.
700 block of Willowfield Court -- A laptop computer was reported stolen at 10:02 a.m. June 19.
900 block of Ruthenbeck Lane -- A television was reported stolen at 9:59 a.m. June 21.
Police statistics show the vast majority of vehicle break-ins involved cars that were left unlocked, even though valuable items such as computers, GPS units and even wallets were left inside. Experts say it tends to be a crime of opportunity in which the would-be burglar tests car doors to see if they're unlocked before checking the vehicle for items that can be stolen.
Contact Karen Sorensen at Karen@TheTimesWeekly.com.