Lockport Street bypass plans reviewed by Plainfield board
Brock A. Stein | 6/23/2015, 11:03 a.m.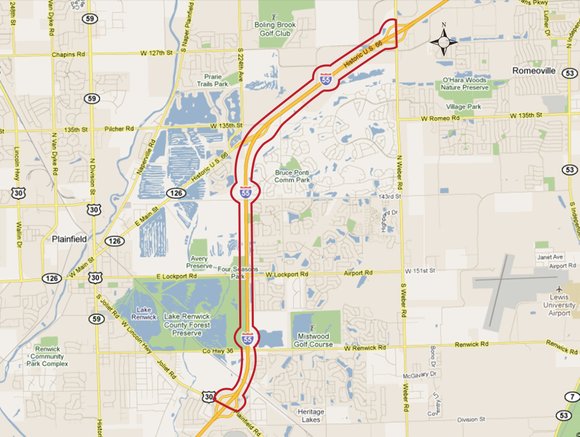 An engineering firm conducting a feasibility study for a Lockport Street bypass in Plainfield narrowed the options to three and is recommending one.
Once constructed, the bypass would route highway truck traffic away from the village's downtown by connecting Lockport Street to Route 126 and eventually to a 143rd Street extension.
Village officials hope to fold most of the work into the Illinois Department of Transportation's plans for a new interchange at Airport Road and Interstate 55 near Romeoville.
The bypass is key to alleviating traffic congestion on the village's surface streets, officials said.
Engineer Darcie Gabrisko of Strand Associates said the recommended route for the bypass would require the purchase of property from the nearby Vulcan Materials quarry but would still be the least expensive plan. The proposed route would run along the northeastern edge of the property.
Depending on the final design, a four-lane roadway would cost an estimated $15 million to $16 million. If only two lanes are built, the price tag would be in the $12 million to $13 million range.
The recommended route would also have the least impact on nearby park and wetland sites, Gabrisko said.
Overall, the plan would require the acquisition of about 18 acres of right of way and just under an acre of park space. The recommended route would also require the roadway to cross one stream as opposed to three for the remaining two options.
If the bypass is not built, traffic studies show that increased traffic coming from the I-55 interchange improvements would increase Lockport Street traffic from about 6,700 vehicle daily, as documented in 2012, to as many as 32,000 by 2040. If the bypass is built, it would handle about 34,000 vehicles per day by 2040, according to the study.
Trustee Margie Bonuchi said the recommended bypass route would accomplish what village officials want: The alleviation of traffic on village streets.
"This does seem to be the best solution," she said.
Village Administrator Brian Murphy said the bypass study should also increase the chances of the I-55 interchange being built because it shows the need for all of the interconnected road improvements in the area.
"By having the bypass in place actually scores this project a lot better," he said.
Trustee Bill Lamb said the impact on the village will be "immense," helping to alleviate traffic snarls that plague commuters.
Public Works Director Allen Persons said the next phase is to gather public comment comments. Residents can view all three plans on the village's website, www.plainfield-il.org. The goal is to have both projects "shovel ready" for when federal funds become available.
Contact Brock A. Stein at Brocknewstips@gmail.com or on Twitter at @BrockAStein.