Buffalo Chicken Mac and Cheese
3/2/2015, 8:32 p.m.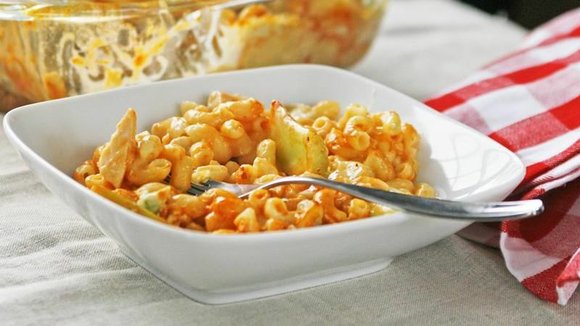 SERVINGS: 4
Ingredients
2 ½ cups uncooked elbow macaroni
¼ cup unsalted butter
¼ cup all-purpose flour
½ teaspoon ground mustard
2 cups whole milk
2 cups shredded Cheddar cheese (8 oz)
Salt to taste
1 cup chopped cooked chicken
1 stalk celery, cut in half lengthwise, then cut into 1-inch pieces
¼ cup crumbled blue cheese (1 oz)
¼ cup Buffalo wing sauce
Directions
Heat oven to 425°F. Cook and drain macaroni as directed on package, using minimum cook time.

Meanwhile, in 3-quart saucepan, melt butter over low heat. Stir in flour and mustard with whisk; cook and stir until smooth. Gradually add milk. Heat to boiling, stirring constantly. Boil 1 minute until mixture is hot and bubbly. Add Cheddar cheese; stir until cheese is melted and sauce is smooth. Season with salt.

Gently stir cooked macaroni into cheese sauce. Stir in chicken. Spoon into ungreased 8-inch square (2-quart) glass baking dish. Sprinkle celery and blue cheese over macaroni mixture. Drizzle with Buffalo wing sauce.
Bake uncovered 5 to 10 minutes or until bubbly and blue cheese is melted. Serve immediately.