Council debates funding of new Slammers scoreboard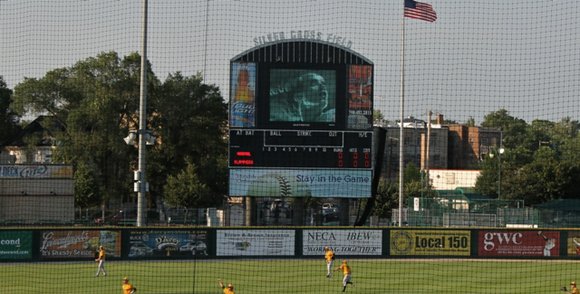 "If we are facing a $7 million cut in revenue … what do we do then?" O'Dekirk said. "I'm a little more concerned with $7 million missing from the 2015 budget as opposed to the scoreboard working on opening day."
But that could be a costly gamble for everyone involved, too, Schaub said.
"The likelihood of (the scoreboard) failing is pretty great," he said. And if it does, not only will it jeopardize events planned for this year, it could hurt the team's ability to land contracts, such as it the one it has with the Illinois High School Association for its baseball tournament, and the stadium naming rights, currently held by Silver Cross Hospital, which come up for renewal in two years.
"I share all the thoughts and concerns that have been shared up here by the council," Councilman John Gerl said. "My concern is if we don't have a functioning scoreboard on opening day at Silver Cross Stadium, that obviously says something about who we are and who are team is and that sort of thing. Obviously, entertaining corporate sponsors or trying to recruit corporate sponsors is going to be pretty difficult."
The discussion will continue at the council's 6:30 p.m. Tuesday meeting, where a vote on the scoreboard funding issue is currently scheduled to take place.
Contact Karen Sorensen at Karen@TheTimesWeekly.com.