Lyric Gives Weinberg's The Passenger Its First Chicago Performances
3/2/2015, 8:56 p.m.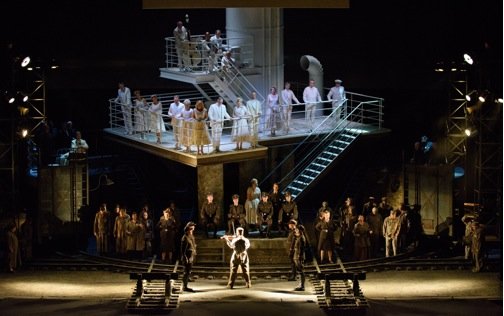 Miecyzslaw Weinberg's Holocaust opera, The Passenger, which Lyric gave its first Chicago performance Tuesday night,was a mesmerizing event, one of the few occasions where an audience was silent when the opera ended, then as if catching its long-held collective breath, erupted into sustained cheers. It runs through March 15, part of that time in repertory with Wagner's Tannhauser.
Sir Andrew Davis conducts them both magnificently.
In an established work such as Tannhauser, the focus is on performance. In a newly encountered work, must be on the work itself. The singing–solo and chorus–was impeccable. Marta (Amanda Majeski) and Liese (Daveda Karanas) are breakout roles for the women. Tadeusz (Joshua Hopkins, debut) and Walter (Brandon Jovanovich) are more reactive than proactive roles, but well sung and acted. Among the debuts in supporting roles, Uliana Alexyuk's captured the teenaged Yvette sweetly.
Miecyzslaw Weinberg, the most famous, prolific composer you've probably never heard of (1919-96),
achieves something that in my many years of working with the Spielberg Shoah Project, I never imag-ined I would encounter: a work that, on the one hand, gets the cruel facts right, and, on the other, uses them to address universal ideas of morality, memory and love. Based on Zofia Posmysz's account of her three year Auschwitz tenure, the story alternates between a luxury liner where Liese, an SS over-seer, and her diplomat husband are on their way to his posting in Brazil 15 years after the liberation and a women's barracks and Auschwitz. Liese's shock at seeing Marta, a woman she sent to her death, causes her to tell husband, Walter, about her patriotic duty to the Fatherland during WWII. Does she really see Marta, or is her guilt talking? How does Liese's recollection jibe with the camp reality?
Counterpoint to Liese and Walter are Marta and Tadeusz, her fiancé who plays the violin and makes silver ornaments for SS officers; one of them is a Madonna with Marta's face, "the Madonna of the bar-racks". Marta's lovingkindness is a light to her fellow inmates; Zofia Posmysz, the beautiful, elegant 91–year–old journalist/author of The Passenger was at the opening; the light of her countenance was the real life replica of Marta's.
Liese, who might have been Marta's college roommate in other times, wants to find some way to get Marta to do her bidding. She thinks she has a chance when she sees Marta and Tadeusz together, nei-ther having had any idea the other was alive. Tadeusz has come to the Kommando (usually known as Canada) to get a violin for a command concert for the commandant and which is to include his favorite waltz. Liese offers to arrange for the lovers to meet again, but Tadeusz refuses her bait. And, instead of the banal waltz, he plays Bach's Chaconne. His violin is smashed and he is dragged away to the death cell to the sound of savage chords. (Although many of the camps had orchestras, Bach was nev-er allowed to be played.) This is followed by Marta's quiet epilogue of memory and longing that the vic-tims and their sufferings not be forgotten.