New Slammers scoreboard OK'd in split council vote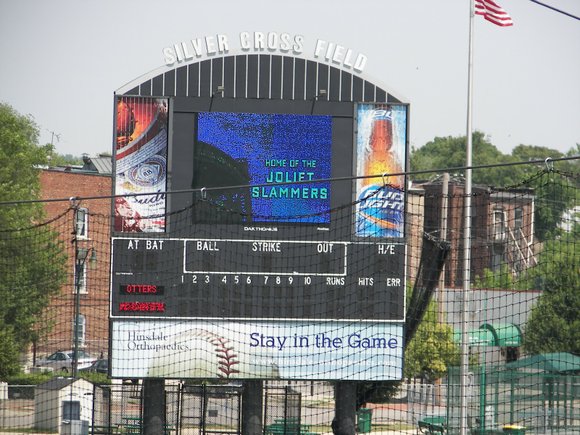 A new scoreboard for the Joliet Slammers may not be a priority when compared to new police officers and more snow plows, but it is a contractual obligation, Joliet City Council members said, and one they voted to fund Tuesday night.
The issue was thoroughly debated, but when the dust settled only three council members – Larry Hug, Jim McFarland and Bob O'Dekirk – voted against spending $360,000 for a new board, $210,000 of which will be funded with budget reserve money.
"We are the landlords and everyone on this council, except for two members, agreed in 2012 (when the stadium lease was signed with the new owners of the Slammers) to help get a new scoreboard," Councilwoman Jan Quillman said.
"If we keep waiting, it's only going to cost more money in the end."
And if the scoreboard fails to start when the season begins May 19 or breaks down during the course of the season, Silver Cross Field will be without it for several weeks while parts that are no longer manufactured are sought, Councilman John Gerl said.
"That's just no way to do business," Gerl said. "The bottom line is we own the park. If we didn't want to operate it, we should have mothballed the thing two years ago."
The original budget plan was to split the cost of a new 877-square-foot scoreboard over two years, paying $150,000 this year and another $150,000 in 2016, City Manager Jim Hock said. Things went awry when they learned the manufacturer wouldn't allow installment payments and the sign would cost $60,000 more than budgeted, he said.
It also became more a dire expenditure when the Slammers told city officials they feared the scoreboard might not start this spring and that if it broke down, they might not be able to find parts. The 375-square-foot sign is three years beyond its life expectancy and operates on a Windows 95 platform.
But is that truly the case, McFarland asked.
"The sign still works. It's not out of commission," he said. "The question for us is, is this a priority? It's not, is this a reasonable amenity for the ball diamond? You don't want to go to a ball game without a scoreboard, we all know that. … The question is, is it a priority to dip into our reserves to pay for this?"
His fear is the city may find itself in hot water financially, given the governor's proposal to cut state funding to municipalities by 50 percent, creating a Joliet budget shortfall of $6 million to $7 million.
Beyond that, the city has committed to hiring more police officers, is trying to come up with more money for snow plowing, has committed to a $40 million sewer pipeline project, is seeing cost overruns in the Joliet Gateway project, needs to start paying for the purchase of Evergreen Terrace and has to find money to keep the Will County Courthouse in downtown Joliet, McFarland said.
Hug added he had qualms about the deal because the city did not create guidelines under which contractors would bid on the scoreboard but instead went directly to three companies to seek bids based on what the salesmen thought was needed.
"Our support of the Slammers is not in doubt, it's never been in doubt," Hug said. "I just feel we should have a price that comes in as close to $150,000 (as was budgeted) as we can."
Contact Karen Sorensen at Karen@TheTimesWeekly.com.