Pizza Mac and Cheese
3/3/2015, 2:35 a.m.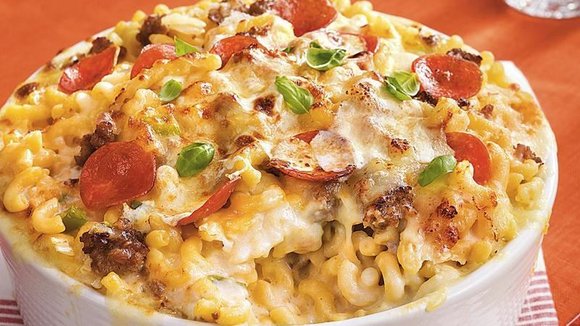 SERVINGS: 12
Ingredients
3 ½ cups uncooked elbow macaroni (16 oz)
1 lb bulk mild or spicy pork sausage
1 large green bell pepper, chopped
1 large onion, chopped (1 cup)
1/3 cup butter or margarine
1/3 cup all-purpose flour
1 teaspoon salt
1 ½ teaspoons crushed red pepper flakes
2 cups milk
¾ cup water
4 cups shredded white Cheddar cheese (16 oz)
1 ½ cups shredded mozzarella cheese (6 oz)
½ cup grated Parmesan cheese
20 slices pepperoni (from 3-oz package)
Small fresh basil leaves, if desired
Directions
Heat oven to 425°F. Spray 3-quart casserole with cooking spray. Cook and drain macaroni as directed on package. In 12-inch nonstick skillet, cook sausage over medium-high heat until no longer pink; drain. In same skillet, cook bell pepper and onion 5 minutes or until crisp-tender.

In 4-quart saucepan, melt butter over medium-low heat. Stir in flour, salt and 1/2 teaspoon of the pepper flakes. Cook and stir until smooth. Gradually add milk and water, stirring constantly until thickened. Gradually add Cheddar cheese; stir until melted. Add macaroni, sausage and onion mixture; toss to coat. Spoon into casserole. Sprinkle with mozzarella cheese. Bake uncovered 30 minutes or until bubbly. Top with Parmesan cheese, pepperoni and remaining 1 teaspoon pepper flakes. Bake 2 to 4 minutes longer, or until lightly browned. Garnish with basil.